Last Friday, in "Get Ready for the Broadband Olympics," I posited that the '08 Beijing Games would be looked back upon as the first "Broadband Olympics." NBC has made a massive investment in delivering the portions of the Games both live and on-demand via NBCOlympics.com and other outlets. A week into the Games, the broadband coverage and user experience is exceeding my and others' expectations.
First the numbers, which are staggering. NBC has been pumping out news releases on a daily basis touting

their Total Audience Measurement Index or "TAMi" rating, broadcast audience records and online usage. Focusing just online, through yesterday NBCOlympics.com has attracted 25 million unique visitors, driving 456 million page views and 22 million video streams which total 3.5 million hours of video consumed. These figures easily outpace the '04 Athens Games.
A major drawing card in the '08 Games is of course Michael Phelps's drive for 8 golds. And so far the peak dramatic event in the Phelps narrative was the 4x100 freestyle relay in which teammate Jason Lezak swam the split of his life. That thrilling video alone has been viewed over 2 million times, providing a textbook example of how unique Olympic moments are tailor-made for broadband on-demand coverage. (Note, while not a big swimming fan myself, I have to admit I've watched the last leg of that race a half dozen times. If you haven't seen it, it's an absolute must)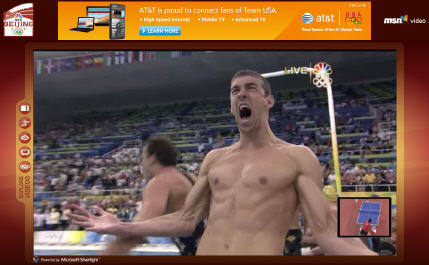 Meanwhile, the live streaming has been a fun element of NBCOlympics.com. I've found myself periodically perusing the little red "LIVE" flags on NBC's home page and tuning in briefly to sample sports I have no affiliation to, but are neat to dip into briefly (e.g. women's badminton or table tennis).
Overall, the user experience is excellent. Beyond the well thought-out navigation, a key part of the experience owes to Microsoft Silverlight which enables totally new broadband video capabilities. Picture-in-picture, 4 live concurrent streams, zero-buffer rewinding, and of course glorious video quality (even in large-screen mode) are all breakthroughs. So far I haven't seen or heard about any delivery or viewing glitches.
I do have some nits: way too many pre-roll ads (for example, that AT&T "We" ad is killing me), some non-intuitive and unexplained transitions between viewing modes, a limited assortment of "most viewed" videos displayed and an occasional delay in video loading particularly in "Live Video Control Room." Then of course there's been the grousing (unwarranted in my opinion) about NBC's decisions to show certain sports online, while not others. Net, net though, one week in, the first Broadband Olympics are redefining broadband's potential and setting a new quality bar for future events.
What do you think? Post a comment.