Friday, April 25, 2014, 3:47 PM ET
|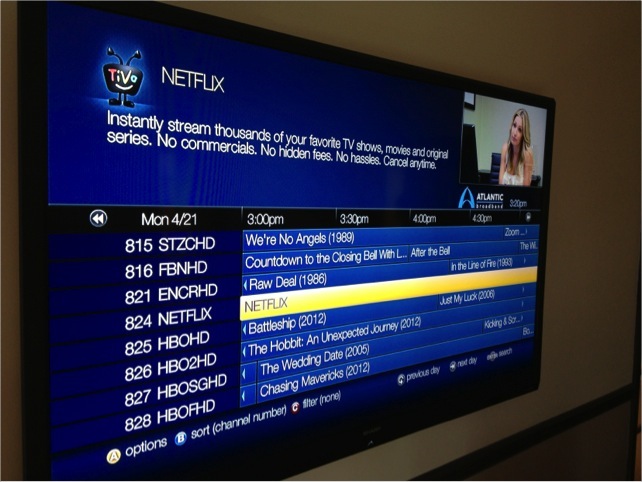 Netflix will be integrated by 3 small U.S. cable TV operators via TiVo, per a joint announcement by the companies. Atlantic Broadband, Grande Communications and RCN will begin integrating Netflix in multiple ways: by assigning Netflix its own channel in their on-screen guides, exposing the Netflix app for quick access to sign-up or login and incorporating Netflix content in recommendations and search results alongside linear, VOD and the subscriber's DVR content.

For Netflix, the deals follow similar implementations in Europe with Virgin and Com Hem. Netflix has avidly pursued inclusion in the primary pay-TV experience, helping it become even more mainstream by eliminating the step of switching inputs to a connected device. Another benefit to Netflix is the cable operators will also integrate with Netflix's Open Connect content delivery platform.

There are many different ways to think about the deals; below are 5 of my key takeaways:
1. The changing definition of a "pay-TV operator"
As I've previously written, I'm leery of the risks to pay-TV operators of bundling Netflix. However, David Isenberg, Atlantic's chief marketing and strategy officer (and a former colleague mine), explained the Netflix deal as signaling a fundamental redefinition of the company's mission as "helping customers get access to any entertainment - however they want it" vs. a more narrowly defined, traditional model of the pay-TV operator as delivering a bundle of cable and broadcast networks only.

Obviously this more expansive view means the entire world of online video would become fodder for a pay-TV operator to pipe into the home. Dave sees this as the era of "Broadband TV." Just as HBO pioneered satellite signal delivery and helped usher in the universe of cable TV networks, now Netflix will help drive delivery of online video as part of the bundle. These bundles still aren't cheap, though forthcoming "skinnier" ones, possibly packaged with Netflix and targeted to cord-nevers, might be.

2. New dynamics in pay-TV operator-cable network relations ahead
If tons of new online video options are presented by the pay-TV operator, one consequence will be to further fragment audiences away from traditional TV channels and linear consumption, reducing these channels' value. That could mean some of the negotiating leverage shifts to operators who have been paying escalating fees for years. Dave said Atlantic will be actively researching viewership patterns in their Netflix homes, using the data to inform relationships with current TV networks. The days when a channel slot was scarce "beachfront real estate" for a TV network may be ending.

3. The hybrid set-top box is critical
The core enabler of Netflix being carried is a hybrid set-top box that can handle both traditional pay-TV streams and new IP streams. TiVo has worked hard to position itself as such and Dave noted it's the glue that makes all this possible. It's worth noting that Comcast's new X1 has similar capabilities, but aside from these there are few practical alternatives (one option is a system like Active Video that can overlay IP content to existing set-tops). TiVo has been focusing mainly on smaller pay-TV operators, but, to the extent that the Netflix deals prove successful, TiVo could get lots of new attention.

4. From pilot episode to last night's episode - the evolving viewer experience
The last few years have been marked by catalogs of TV shows coming online, so viewers can binge past seasons. But what's been missing is a seamless way to watch from pilot episode through to last night's episode without switching services, inputs, etc. This is a whole new value prop these deals create. As Dave explained, a viewer can, for example, start with the pilot of "Scandal" and watch through last night's episode, all within the TiVo interface, making the real innovation here "simplicity." Of course Netflix's catalog isn't 100% comprehensive, but it is well-stocked and the model is extensible to Amazon and others too. This new value prop gives the operators strong new promotional messaging points and revenue.

5. Netflix is not only here to stay, it may represent new competitive advantage
It wasn't that long ago when Netflix was a TV industry interloper, famously being likened to the Albanian army. Then it won lots of friends in Hollywood by writing big checks to the content community. Now it's poised to possibly become pay-TV operators' new best friend. Dave believes associating with Netflix's "powerful brand" will bring a halo to Atlantic's marketing efforts, helping poach satellite competitors' subscribers and attract new "cord-never" subscribers. It's pretty remarkable how quickly Netflix has become part of the fabric of TV.

To be sure, none of this means Netflix will gain broad adoption in the U.S. pay-TV industry anytime soon, but the door has clearly been cracked open. No doubt other pay-TV operators will be paying close attention.