We had a great turnout for yesterday's VideoSchmooze breakfast/panel in NYC focused on how connected and mobile devices are transforming the video landscape. Panelists included Charlie Herrin, SVP, Products and Technology, Comcast Interactive Media, Doug Knopper - Co-CEO and Co-Founder, FreeWheel, Olivier Manuel - Director of Content, Samsung Electronics, Steve Robinson - CEO and Founder, Panache and Jeremiah Zinn, SVP, Digital Products, MTV.
Following are some of my key takeaways from the session:
Devices additive or disruptive to the existing pay-TV ecosystem

- The question of whether connected and mobile devices fuel pay-TV cord-cutting or present new opportunities for incumbents to add value to their services has been a hotly debated question this year and was our leadoff topic. The panelists came down strongly on the "additive" side, noting that they provide more convenience and choice, and improve users' overall experience. The overall impression was that the pay-TV ecosystem understands it is their business to lose if they don't incorporate new devices and experiences into their offerings. Efforts like TV Everywhere illustrate the point.
Cord-cutting not an issue today, but consumer perceptions changing

- Following the above and echoing what cable executives have been saying for months about their subscriber losses, Charlie said Comcast doesn't see its losses as due to cord-cutting, but rather due to the difficult economy. But I tried to make the point that consumer perceptions about what to spend for in-home entertainment must be changing since it's now possible to pick up a connected device for $100 or less, and subscriber to Netflix and Hulu Plus for less than $10 apiece. Granted the two don't provide an equivalent pay-TV service (starting with no live programming of course), but the fact that it's possible to inexpensively put together a high-quality bundle must have some impact on perceptions. The lousy economy will only further stoke interest in cost-effective alternatives.
TV is becoming more about experiences

- All of the panelists made a strong case that TV is transforming from a passive, lean-back experience to a more engaging, interactive one. Jeremiah pointed to numerous ways MTV has integrated social media into its programming such as the VMA awards, including having new "TJs" or Twitter jockeys, involved plus hosting "co-viewing" parties, though most of these have been through 2 screens. These efforts are about more than just engaging audiences though; importantly, they generate a huge amount of data about viewers and their preferences, helping inform future programming choices and improving ad targeting. Separate, Olivier said "Smart TV," which is what Samsung sees itself enabling through connected devices and TV apps, brings a whole new world of engagement to the living room. Key to this is using open web technologies like JavaScript and XML.
Advertising will play a bigger role in connected and mobile experiences

- Monetization on new platforms has been a persistent concern for all media companies ("analog dollars, digital pennies") for a while now, but both Doug and Steve shared new data suggesting that more TV-like experiences are taking hold. For example CW is now running a full ad load in its online shows. And mid-rolls are gaining in both prominence and acceptance, with 90+% completion rates. Doug also announced that both MySpace and Fox have become FreeWheel customers. Steve noted that both targeting and ad formats are improving to give viewers more control and better experiences. He pointed to a new format Panache just introduced for MTV's Samsung ad campaign that lets the viewer fast forward through the ad while branded audio continues to play. Even as the volume of ads on connected and mobile devices increases, the goal is to have the consumer experience improve.
The bottom line

- 2010 was the year that connected and mobile devices for video viewing became mainstream. Between Android, iPad, gaming consoles, low-cost standalone boxes, etc, consumers' awareness of alternative viewing platforms has grown dramatically this year. This will continue in 2011, presenting huge new challenges and opportunities for video incumbents. Connected and mobile devices will unquestionably transform the video landscape, but exactly how this will happen, is still a work in progress.
What do you think? Post a comment now (no sign-in required).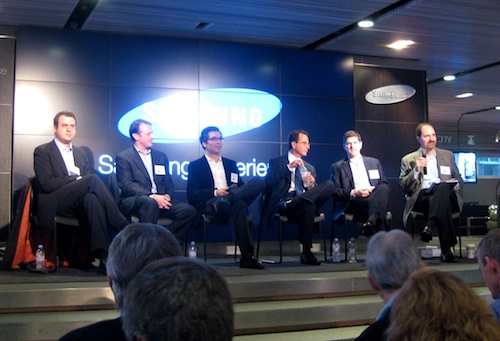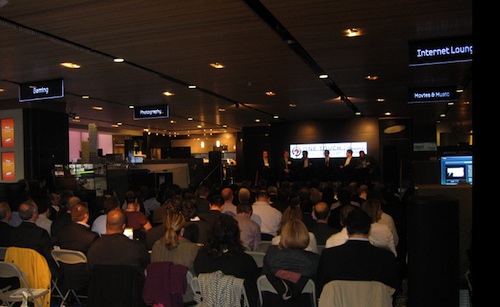 Photo credits: Mari Silbey and Ephraim Cohen