Monday, April 4, 2011, 9:21 AM ET
|
Just when you thought there couldn't be room for another video ad network, analytics provider Visible Measures is launching a new one this morning called Viewable Media. However, Viewable Media has a few key differentiators which will be fresh for publishers and advertisers, in turn raising the bar for other ad networks. Brian Shin, Visible Measures' CEO explained Viewable Media's approach to me late last week.
With Viewable Media, Visible Measures is leveraging its Viral Reach database that it has been building on viewership and engagement for over 400 million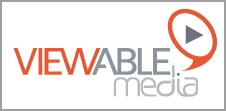 different videos since it began operations. To date this data has been packaged into different products so that advertisers and publishers can track various videos' performance. But as Brian explained, advertisers and media buyers have been encouraging Visible Measures to also use the data to enhance the online video ad buying process with better targeting and improved efficiency. That's where Viewable Media comes in.
With Viewable Media, an advertiser's creative is scored on 14 different attributes in order to compare it with other campaigns that have run over the last 4 years. Based on this comparison, Viewable Media calculates approximately how many views can be expected given a certain level of media buying and the social sharing (also called "Earned Media") likely to ensue. Then, depending on whether the advertiser seeks additional exposure, and has the budget, a campaign can be constructed on Viewable Media's publisher network.
View count can be tailored because Viewable Media lets advertisers buy solely on a performance basis. Importantly, Viewable Media is also a pure "audience choice" model, meaning no pre-roll ads auto-play, but rather viewers have to first choose which ad they want to watch. The concept of users choosing which ads to watch has gotten traction recently, with Hulu and others implementing it. No surprise, when users choose, their engagement increases - according to research from The Pool various brand metrics can rise by 300% to 450%.
For publishers, Viewable Media offers the prospect of improved monetization of their video real estate. While Viewable Media can work well for premium content, it also opens up the possibility of more video ads running with user-generated content, which has traditionally been a tough sell for brands. Like Google's AdSense, which leverages data about the user, content and ads to place the optimal ads across its network, Viewable Media can do something similar, but with video. An example Brian gives is of a user-uploaded video of a car enthusiast showing off his rebuilt engine that may in turn be syndicated widely. With Viewable Media, car-related opt-in video ads could run alongside it wherever it lives. This ability to monetize long-tail content by leveraging data could make Viewable Media extremely valuable for specialty publishers.
Visible Measures will operate Viewable Media as a separate division, and has hired as GM Steve Carter who was previously VP of Brand Platform at Tremor Media and SVP, Platform and Product at ScanScout.
We'll be discussing video ad networks' role in the ecosystem at ELEVATE: Online Video Advertising Summit on Tues, June 7th. More info coming soon.
What do you think? Post a comment now (no sign-in required).
(Note: Visible Measures is a VideoNuze sponsor.
)