Thursday, June 5, 2008, 10:49 AM ET
|
With this week's news that Veoh has garnered another $30 million in financing, by my count the total amount raised by the top broadband video aggregators now exceeds $366 million. The breakdown is below, according to publicly available data I've pulled together.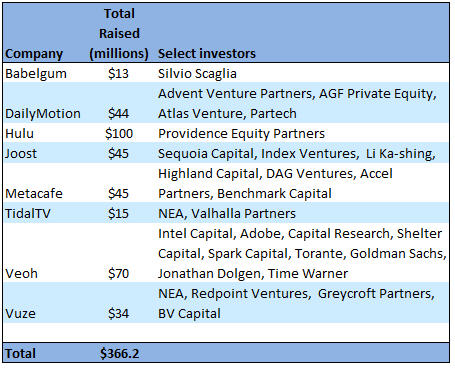 While definitions of who should be included in this category are admittedly fuzzy, I consider broadband aggregators to be companies that are providing a broad-based destination site that focuses mainly on professionally-created video. Often these sites include broadcast network and cable TV programming, but they don't have to. I'm sure plenty of readers have their own definitions and that I've overlooked some, so feel free to post a comment to add others to the list.
Savvy investors seem to have an enormous appetite for these kinds of companies. Veoh, with 28 million monthly unique visitors, and others have demonstrated their ability to attract lots of eyeballs. Yet all of these companies are solely reliant on advertising, and that of course makes begs the question how well these companies can convert their traffic to real revenue and therefore become profitable, sustainable businesses?
Since all of these companies are private it is hard to assess their momentum. Yet in a recent panel I moderated at Streaming Media East, Mike Henry, SVP of Ad Sales for Veoh explained the range of current challenges. Chief among them is getting traditional TV media buyers to clearly understand the broadband medium, how to buy into it and how to measure its performance. These are crucial matters since the biggest source of broadband ad dollars will no doubt come from brands shifting their TV spending to broadband.
Of course, to the extent that these companies can continue raising big money, they're buying themselves more runway. Complicating matters is that all of these sites live in the long shadow of YouTube, which alone still accounts for around 40% of all video views per month. Then there are big players like Yahoo, MSN and AOL and recent entrants like Adobe which are vying for their share of the video pie. But at some point these companies will have to show they can make money and survive.
With all these crosscurrents, it will be interesting to see how these companies' stories unfold.