I was intrigued by news yesterday from Tremor Media, the ad network and management company, of their rollout of a new ad format called vChoice. Advertising continues to be the primary business model for premium online video, yet there's wide consensus that pre-roll ads, the most popular ad format today, leaves a lot to be desired. I spoke to Tremor's CEO, Jason Glickman to learn more about vChoice, and its benefits vs. pre-roll.
With vChoice, there's still a video ad playing prior to the requested content, but at 5-15 seconds, it's shorter than typical 15 and 30 second spots. The big difference is that this short ad is meant to be a teaser; when it stops running, an explicit choice is given to the user to click for more video, or to continue on to the requested content.
By shortening the upfront message, and presenting more options to the user, the goal is to deepen engagement. vChoice is geared to advertisers who either already have videos that could be logically clustered and offered to users (e.g. a car model which multiple promo videos) or are interested in creating new stories for non-linear consumption (like the example below from Warner Bros). Either way, as Jason notes, vChoice offers much greater creative freedom and engagement potential than a typical 15 or 30 second passive spot.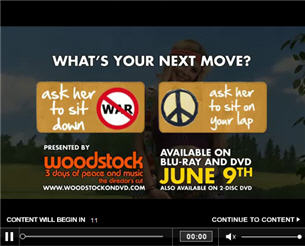 Tremor just finished a beta of vChoice with Microsoft, P&G, Ubisoft and Warner Bros. The results are impressive: 200% lift in engagement, as defined by multiple metrics, and a click-through rate of 3-6% vs. sub-1% for typical pre-rolls. Tremor's also using Quantcast data to provide demographic profiling of these engaged users. The early results, plus the creative potential, is what Jason says has advertisers most excited.
Jason also added that there are two keys to making vChoice possible: the company's Acudeo management platform, which allows multiple in-stream ads to run within a single unit, while also delivering full analytics, and the scale represented by 900+ sites in Tremor's publisher network. Importantly, there's no extra charge for additional views in a vChoice experience. That means for users who watch multiple videos, the advertiser's cost/impression keeps declining.
Jason doesn't see vChoice obsoleting pre-rolls, but rather offering more value in the online video medium. vChoice's success depends on whether users will be sufficiently enticed by the enhanced choices the advertiser offers to divert from their original viewing intentions. Key to driving that behavior is getting media buyers and creatives to understand the new value of these units and to then to invest in them. As this happens, the full potential of online video advertising will begin to be realized.
What do you think? Post a comment now.