A great example of the power of broadband video's convenience and immediacy is NBC's posting of this morning's Today Show interview with Scott McClellan.
For those of you not following the unfolding furor this week, McClellan, a former spokesman for President George Bush, has written a tell-all book about his White House years that has elicited a blistering reaction. This morning he spoke for the first time about the book, with Today's Meredith Vieira. Regardless of your political persuasions, convenient access to newsworthy video like this is beneficial to all of us.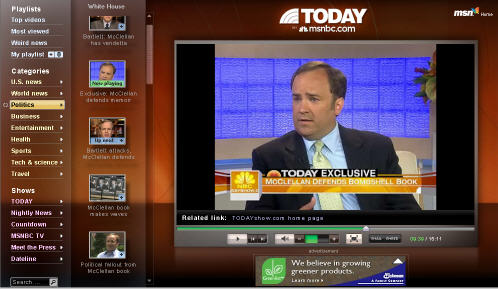 In the not-so-distant past, you'd have been out of luck if you hadn't either watched the Today Show live or planned in advance to record it. Needless to say, the number of people in either of these categories is dwarfed by the number who would be interested in seeing the interview. Broadband neatly offers a solution to this problem by offering an unlimited, freely accessible viewing platform. To NBC's credit it's playing the interview with just one 30 second pre-roll, so no commercial interruptions. NBC could succeed further if it widely syndicated the interview so that a user (like me) didn't have to first Google "Today Show."
To me, this is what broadband is all about - untethering us all from time and place, so we can watch programming when, how and where we want it. If networks enable us all to do this, I'm convinced that eyeballs and money will follow.