Wednesday, September 7, 2011, 9:58 AM ET
|
Connected devices that enable viewing of online-delivered video on TVs are proliferating. As this new addressable universe of viewers expands, content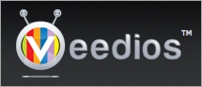 providers naturally want to deliver to it. This is especially true for content providers who haven't gained valuable distribution agreements with pay-TV providers, and therefore have been shut out of the living room to date.
The problem is that each connected device manufacturer has its own publishing environment and approval process. That's where startup Veedios comes in. Veedios has developed a tool that allows it to publish native apps to 5 different platforms today (boxee, Roku, Popbox, Plex and Yahoo Connected TV, which includes Samsung, Sony, Vizio, Toshiba and LG), with more coming soon including iOS and Android.
As co-founder Chad Auld explained to me recently, Veedios lets content providers focus on their core production competencies, while letting Veedios take care of all publishing mechanics with each of the device platforms. Content providers start by either pointing their source videos to Veedios or uploading them to an optional hosting service. Then they choose a customizable template, which includes options for different categories and sub-categories to create a branded content provider app. Veedios submits the app on behalf of the content provider for approval, and once approved the app goes live.
Veedios' admin tool then enables subsequent content updates either automatically through feeds or manually. All content is tagged and indexed so it's searchable. And an analytics package provides basic reports on plays by platform over various time periods. For now content providers are only able to monetize through pre-roll ads, which need to be embedded rather than dynamically served. Integration with ad networks and support for pay models is coming soon.
Veedios offers three monthly plans, Professional ($149/mo), Premium ($349/mo) and Enterprise (custom pricing) that vary by number of devices supported, maximum number of videos and length of usage data available, with each having an upfront development fee. When compared to the $8-10K that it would likely cost to hire a developer to create just one app for one device, the Veedios looks pretty cost effective for content providers. Veedios just launched in early June and has a couple of customers, GoAnimate and HowToBecome.tv up and running so far. MEVIO is also on board and is in the process of having its apps approved.
The connected and mobile device space is exciting, but still very chaotic for content providers looking to take advantage. Veedios is offering a simple, affordable approach to expedite the process. It seems like a pretty good value proposition.