Thursday, February 10, 2011, 5:20 PM ET
|
Online video ad provider Panache launched a clever new format today called the "Social Offer" which responds to the number one request it receives from brands: what can we do in social? Panache's VP of Marketing Jill Druschke brought me up to speed on how the ad format works and what its objectives are.
The Social Offer format takes existing pre-roll creative and integrates it with social features from Twitter, Facebook and others that offer an API. The goal is to drive more engagement and increase CPMs. In a sample ad for Coke (see below), an overlay pops up that prompts the viewer to receive Coke Rewards points by tweeting about the ad. When the viewer clicks and authorizes a connection to Twitter, a pre-populated tweet appears with a hashtag for the campaign. The tweet is completed, the video then continues to roll and the viewer receives a message with the reward code.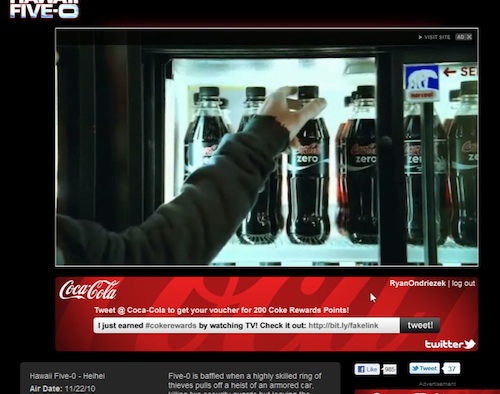 The Social Offer lets brands magnify their media buys by leveraging viewer engagement and interest. This is becoming an increasing popular brand strategy, but as Jill explained incorporating social outlets into ads in an easy, scalable way has been elusive. Often custom coding is required that is expensive and time-consuming. With Social Offer the creative is submitted to Panache, the social features specified, the Panache team takes care of the final production and the ad gets trafficked out. The result is what Panache thinks of as "Pre-roll plus." It's a nice innovation and no doubt we'll see plenty more activity at the intersection of online video and social media.
What do you think? Post a comment now (no sign-in required).