Switching gears a bit, lately it has become apparent to me that broadband video is not just proliferating for consumers, it is also beginning to change how businesses communicate with their constituencies. As people spend more of their time watching video at sites like YouTube, Hulu and others, it was probably inevitable that businesses would embrace video as well. This is the context for Origin Digital's new business TV solution, which can be thought of as a "Hulu-for-the-Enterprise" solution. Origin's Darcy Lorincz recently walked me through their strategy and showed me a demo at NAB.
Origin has been managing large scale corporate video events for 10+ years, and was recently acquired by Accenture. With the business TV solution it is leveraging that experience and its relationships to present a one stop solution for companies to communicate their messages. The solution is a hosted white-label video content management system, player, customizable UI/template and social media features, rolled into one. In a sense the business TV solution turns enterprises into video publishers presenting TV-like experiences.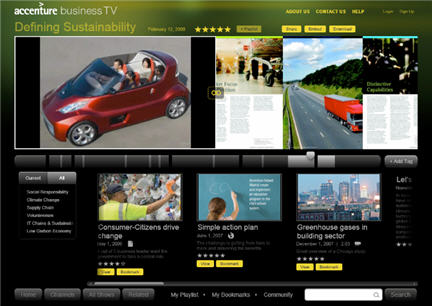 Origin's goals are to help companies improve on how key messages and information are communicated to constituencies and save on face-to-face meetings and travel budget. Darcy explained how Accenture itself has used the business TV solution to build 11 internal "channels." The most active is for human resources, a crucial function in a professional services firm with offices worldwide.
In the HR channel I saw, supporting written materials are still available (with some neat zooming options) and they are arranged alongside relevant videos. Topics include HR policies and procedures, training classes offered, company updates, etc. The business TV solution can also integrate with existing ERP and SAP resources. Other channel examples are executive communications, marketing, sales, investor relations, etc. Users can save specific videos, create playlists, embed, download, share and comment.
Of course, to make use of something like this presupposes that the company has a library of video assets, and/or is ready to commit to shooting ongoing video. Darcy said feedback it has received suggests that a lot of big companies already have lots of video; the problem is there's been no easy way to organize and present it. Further, with the cost of producing high-quality video becoming cheaper and more available through companies like TurnHere and StudioNow, this will become less of any issue over time. Still, it's a paradigm change that will take time to adjust to.
Interestingly, Origin's is just one of many business-focused initiatives hitting my radar. Brightcove told me recently that they've set up a group focused on non-media (i.e. business/government/education) sectors which is getting traction. KickApps has also shared with me they've seen an uptick in corporate communications interest, with an emphasis on social media/interactivity (Alcatel Lucent's Network Cafe is an example). Lastly, a consumer-oriented video platform company recently explained to me confidentially that they're planning a full shift of their model to support business video.
If you happen to be going to next week's All Things D conference, Origin will be demo'ing its business TV solution. If not, there's a pretty good overview video here. Between it and all of these other business-focused initiatives, there could be a lot of Hulu-like activity coming soon.
What do you think? Post a comment now.