Monday, September 12, 2011, 9:05 AM ET
|
Online video platform Ooyala is announcing Ooyala Social this morning, including a deep integration with Facebook that enhances the popular social network's opportunity to become a meaningful video distribution platform by leveraging "social graph" information. The first content provider to use some components of Ooyala Social is film studio Miramax, which several weeks ago began offering 20 movies for rental on Facebook through its Miramax eXperience app. Ooyala CEO Jay Fulcher gave me a rundown of Ooyala Social last week and group marketing manager Nick Edwards walked me through the how Miramax is using Ooyala Social so far.
Jay said that customer interest in tapping into Facebook's 750 million users, plus Miramax's specific request for a Facebook app, drove Ooyala Social. Customers view Facebook as an environment where content can be consumed by users together virtually, with a concurrent social experience, leading to deeper engagement. One of the key benefits for content brands is helping them get closer to their customers through direct interaction, rather than relying solely on third-party distributors.
As seen in the Miramax app, with Ooyala Social, content providers can set their own business model, either paid (rental, subscription, purchase) or free, ad-supported. If paid, users can buy with Facebook credits or PayPal. Once a movie has been bought, it is highlighted for future viewing, per the viewing window parameters. Users can see discussions happening around the movie, and there are prompts to share the movie with friends and also "Like" it. The playback experience can be within the app or full-screen. A key benefit is that viewing can be shifted from device to device, so if a user begins watching online, they can subsequently pick up viewing (at the same point) on their iPad or Google TV (these are the 2 devices Miramax requested, but others will be available too).
What's not seen in the Miramax app yet are movie recommendations enhanced by the user's social graph. As Nick explained, this is one of the big differentiators of Ooyala Social vs. how other OVPs have integrated with Facebook to date. By pairing Ooyala's own recommendations engine with information gleaned from the user's Facebook behavior, more customized recommendations can be delivered (which down the road could be leveraged for ads as well). This emulates and goes beyond the offline pattern of friends making movie suggestions. Other differentiators include Facebook app usage integrated into Ooyala's analytics and integrated chat, building on Facebook's own group chat capability.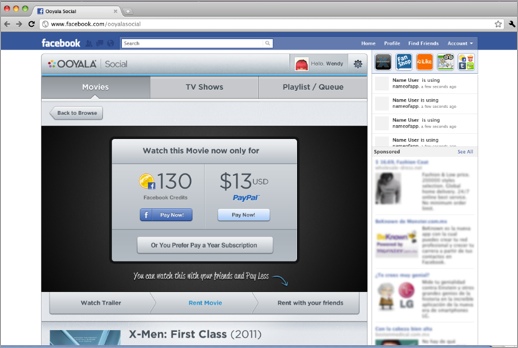 While Facebook has soared to become the third most popular video site in July, with 186 million video sessions, it still doesn't rank in the top 5 of paid online video distributors, a category which is dominated by iTunes, but which is still quite small. It's not clear just how big this category can actually become, but no question, with hundreds of millions of users, content providers will feel more and more compelled to tap into Facebook, as has happened with YouTube. To the extent that OVPs like Ooyala make serving the Facebook audience more straightforward, and also allow content providers to leverage Facebook's engagement and trusted environment, the likelihood of success will increase.