Google released further details on Google TV this morning, unveiling a slew of content services and apps that will be available at launch. Chief among them are Netflix and HBO Go (both for subscribers), Amazon VOD and Pandora, plus new apps from NBA ("NBA Game Time"), NBCU ("CNBC Real-Time"), and "optimized" content from Turner Broadcasting, NY Times, USA Today, VEVO, Napster, Twitter and blip.TV. Google didn't specify what optimized means, but I suspect it means appropriate metadata so that programs can be exposed in Google TV searches. Of course, "Leanback," YouTube's 10-foot interface, will also be featured.
The inclusion of Netflix is most noteworthy because it has been the key catalyst in driving interest in connected devices such as Roku, Apple TV, Blu-ray players, etc. Rumors of a Netflix Android app have been rife for a while and with the Google TV launch, it is likely the Netflix app will be confirmed soon as well. Google TV is premiering with Logitech in its "Revue" device and with select Sony TVs this fall. I'll be on hand this Wednesday at Logitech's press event for Google TV where it will no doubt demo the full panoply of content, apps and multi-screen features. One key benefit Logitech will bring is out-of-the-box compatibility with its nifty Harmony remote controls in many early adopter households.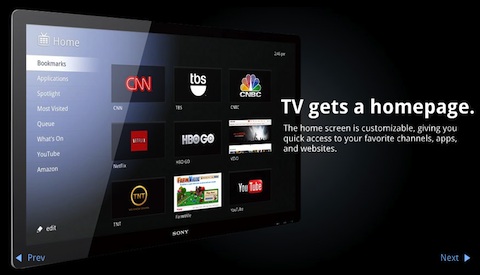 I've previously expressed my bullishness for Google TV, the first bona fide connected device that will offer the entire Internet on TV, with a full browsing experience. While it's not a slam-dunk that all users will want or need such an experience (and for those that don't there are no shortage of inexpensive alternatives), for those that do, Google TV looks like it will be very compelling. At a minimum, the ability to search on TV for specific programs, online video series, personal videos, etc, is powerful. Search is a deeply-ingrained user experience (thanks in part to Google), and if it works well with Google TV, I think it could become a natural and far more attractive alternative to scrolling electronic program guides.
The three big issues with Google TV remain the user experience, the price and whether any content providers (e.g. Hulu) block access. Early reviews give the user experience high marks. The price however, rumored to be $200-300 is admittedly on the high side and will need to be dramatically reduced to take it mass market (see Kindle price reductions for the playbook). It's hard to predict how media companies will react to Google TV; hopefully they'll be enlightened and embrace its benefits. More to report on Wednesday.
What do you think? Post a comment now (no sign-in required).