Wednesday, April 15, 2009, 9:25 AM ET
|
As more and more companies begin to exploit the power of video for promotion or product support, many individuals who have never managed the process of actually creating a high-quality video are getting a taste for how hard it is. Market7 is a new company that streamlines the collaboration process essential to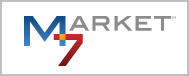 producing high-quality video. Market7 was born from the frustrations that founder/CEO Seth Kenvin experienced trying to create company and product videos while VP of Strategic Marketing at Big Band Networks. Last week Seth explained to me how Market7 works.
As with other marketing or promotional collateral, at high level, the video production process starts with getting all stakeholders on board with the project, its goals and budget. But once approved, there are myriad production steps such as writing and finalizing the script, shooting and then managing the assets, editing, gathering comments on rough cuts, editing some more, and of course trying to keep the project on schedule. Often these steps are managed by a 3rd party video producer, but they still involve a lot of client interaction. While there are individual products for each of these process steps, Seth believes Market7 is the first all-in-one solution.
Market7 allows the project lead to manage process, including setting up tasks, timelines/deliverables and team member responsibilities. Producers upload video assets and other team members are able to annotate the video with their comments, including on the video itself at specific points. That allows feedback to be highly targeted ("the background is too dark in this scene") and thus more actionable by editors. Market7 is not meant to be an online editor, but rather a collaboration environment that moves a project from script development through to final cut as efficiently as possible. The full product suite is available as Software-as-a-Service (SaaS), with pricing based on storage, admin accounts, support level and branding flexibility.
While Seth believes there are lots of different potential customers, he sees the sweet spot in corporate video production, with the videos used for online promotion, trade show support, on-site product demos or internal use. That said, there are a number of agencies using the product, along with an animation studio, infomercial producer and a couple of broadcast and cable TV networks. Market7 is a little bit like Wistia, another early stage company I wrote about recently that's also enhancing collaboration around video production. I'm very intrigued by these kinds of companies that are sprouting up around the video ecosystem. Neither one is likely to become a direct substitute for big budget video productions, but with so many new companies now trying to tap the power of online video, cost-effective yet robust tools like Market7's address real pain points in the market today.
What do you think? Post a comment now.