One of the best hours I spent at NAB was the one listening to Hulu's CEO Jason Kilar. Too bad it was scheduled for 5pm on Day 3, resulting in a desultory crowd of only a 100 or so. Broadcasters and others could learn a lot from Kilar and Hulu's early experience.
Hulu, which was derisively referred to as "Clown Co" prior to its launch, is anything but. In my previous review of its beta, I gave it a B+. One month since its official launch, I now move it up a notch to A minus, and as I'll explain later, an A is within reach.
Hulu is as well-thought out a broadband video enterprise as currently exists, for at least three reasons:
Clarity of purpose - While Hulu evokes Google with its lofty goal, "to help people find and enjoy the world's premium content, when, where and how they want to," it has provided discipline to keep Kilar and his team focused on meaningfully supportive differentiators.
Relentless user-focus - Hulu is Apple-esque in its devotion to what Kilar called an "atypically strong user experience." The team has sweated over and uses every design and technology lever available to make Hulu easy and enjoyable and accessible to the mainstream market.
Organizational capability - Hulu has a startup mentality where every decision is do-or-die. It may feel intangible if you've never worked in a startup, but personal ownership is an incredibly important advantage. Inculcating this ethos despite a $100 million investment and $1 billion valuation is no mean feat.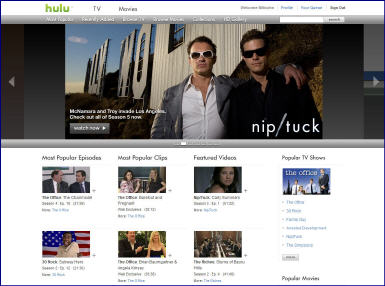 Several recent spins through Hulu showed how these come together. Hulu now has 50+ content partners, but is uncluttered by UGC. This is a place for only high-quality programming. Finding and playing video is a snap. Graphics and fonts are simple and clear. As Kilar said the site's 16:9 graphics, differentiated from standard square thumbnails, suggest this place is different from the rest (no "Tokyo at night" orientation here). Here you can also easily clip and share favorite scenes, which Kilar says has been done 100k+ times on 12K sites since launch.
And how about this - do a search for "Lost" - the popular ABC program which is NOT available on Hulu - and you'll get results pointing you offsite to ABC.com. Talk about putting the user first!
Hulu's real lesson to broadcasters and others is that if you create a high-quality user environment, you open up real opportunities and options. These include getting above average CPMs from advertisers (through effective units like the 7 second introductory "brand slate"), wringing value out of programs no longer on-air (example "Arrested Development" was #1 or #2 most popular on Hulu), pre-empting non-revenue producing/non-branded environments like file-sharing sites and YouTube, allowing new programs to be easily sampled and last but not least, re-capturing users who prefer online over the traditional on-air model.
Hulu still has major challenges ahead: massively building out its content library, proving its syndication value to content partners who could as easily go direct to distributors, making its overall economics work, and of course, navigating the treacherous political waters of its big media backers. If it does all of these, it gets an A. Hulu's impressive progress to date gives me every reason to believe it will.
What do you think of Hulu? Post a comment!