Monday, May 12, 2014, 10:43 AM ET
|
The traditional narrative around online/over-the-top video is that it will incent cord-cutting and cord-nevering. But now, in a twist, instead of a looming battle between OTT and pay-TV, it could well be that we're on the brink of a new era of cooperation between the two, which could have profound implications for everyone in the video ecosystem.

Stepping back for a moment, pay-TV operators have always been in the business of improving the delivery of available video and packaging it into bundles. Initially operators distributed broadcast channels and then in the 70's and 80's, with the advent of satellite delivery, operators began bundling "cable" channels as well (e.g. ESPN, MTV, CNN, USA, etc.).
Now let's flash forward to today. Broadband delivery has created an entirely new way of connecting content providers directly with their audiences. At the NewFronts, a diverse range of content providers showed off a slew of originals, which was of course, just the tip of the iceberg in terms of the overall volume of original video being created these days (as a paid service, Netflix, the biggest player in online originals, was not even at the NewFronts).

These originals are now finding their way into the living room, the traditional province of pay-TV operators; research from Tremor Video last week indicated 83 million Americans now watch video via connected TVs. And as IAB's latest research showed, for some viewers, online originals are already preferred to certain TV genres.

In this context, a smart pay-TV operator has to ask - should it start to selectively bundle online video "channels" alongside broadcast/cable channels? In fact, the ball has already started rolling on this as 4 different cable operators have struck deals to carry Netflix recently. Hulu is likely next given that its new CEO, Mike Hopkins, was formerly Fox's top distribution executive (and therefore knows all about how to cut deals with pay-TV operators).

There's a case to be made that pay-TV operators should be far more aggressive in bringing online video into their experiences. Recent research from Amdocs revealed that 66% of respondents would like a service that aggregates all video, and 40% would be willing to pay more for it (76% of cord-cutters said they'd reconsider re-subscribing if an integrated video service existed).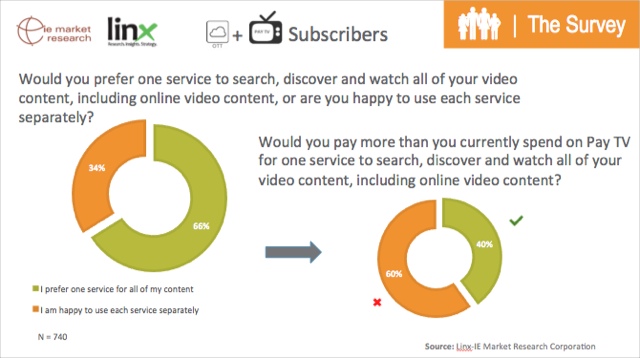 Pay-TV operators wouldn't carry OTT content as conventional linear channels, but rather in on-demand only format which would reduce the expense of offering them. One challenge is how to actually deliver OTT content into the home, short of duplicating it onto incumbent VOD systems, a costly approach. This is where partnerships with companies such as TiVo, ActiveVideo and the ongoing deployment of hybrid IP set-top boxes like Comcast's X1 - all of which help meld traditional and IP delivery - would be critical. On the backend, recent deals like the one between Kaltura and Tvinci are premised on a merged world between linear/pay-TV and on-demand/OTT.

In a sense, online video content is just another source of programming for pay-TV operators - the "third wave" following broadcast and cable. Operators could probably negotiate very favorable deals with eager online video providers, so their negotiating position with powerful media companies that own broadcast/cable channels could improve as a result. Importantly, operators would also better serve subscribers with kids, millennials and those who value online alternatives. Finally, the well-known brand names of many online providers could be leveraged in promotions to new subscribers.

The NewFronts underscored how much energy and investment is going into creating a parallel universe of online originals. But instead of this world of content being disruptive to pay-TV operators as many have thought, in the long-run, it may just end up being very complimentary.