Wednesday, February 10, 2016, 9:22 AM ET
|
Video ad tech provider Genesis Media has launched "Adaptive Formats," which dynamically delivers video ad units that are optimized to an individual web page's editorial and to the user's behavior. The goal is to enable content publishers to best monetize each individual piece of their content while providing an outstanding user experience and full value to advertisers.

Genesis Media's CEO Mark Yackanich explained to me that Adaptive Formats automates a previously manual process. He added that Adaptive Formats directly addresses key publisher pain points of how to select from the myriad video ad units which are now available and then how to scale the ones that are selected.
As shown in the graphic below, Adaptive Formats starts by testing various ad units on a single page to determine baseline performance metrics. As the optimal ads emerge and solidify, they receive a greater proportion of impressions on the page, with the underperforming units phased out. Over time, this process is meant to deliver optimal content monetization.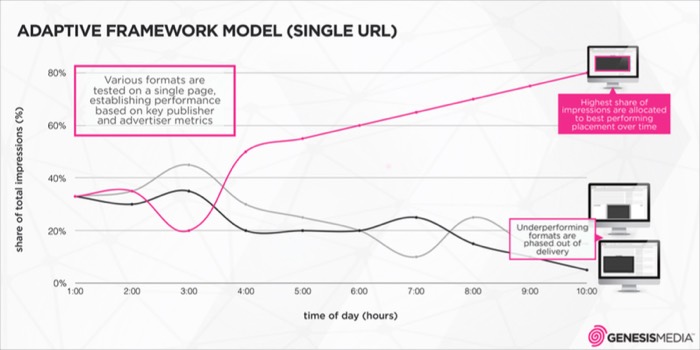 Genesis' patented Page Attention Rank ("PAR") technology evaluates and scores the editorial quality of each publisher's page based on user's attention. On this basis, Genesis can decide whether the page is suitable for an ad and if so, which format to use and which particular campaign to deliver.

By looking at web pages of 1,000+ publishers in its network, Genesis' algorithms continue to improve over time, in turn helping deliver better monetization. Mark sees this process and Adaptive Formats as akin to adding artificial intelligence to each web page for the first time.

For now Adaptive Formats will be used with four of the company's outstream video ad units and one display unit. Next, a combination of 5-9 outstream and non-outstream ad units will be added. Mark said a number of advertisers and publishes have been using Adaptive Formats realizing 5-20% improvements in view-through rates.

At a time when ad-blocking and viewability are pressing industry problems, and high-quality video inventory remains scarce, publishers are under more pressure than ever to figure out how to optimally monetize their editorial investments. Adaptive Formats looks like an important new tool in helping them do so.