Monday, January 9, 2012, 9:46 AM ET
|
Frequency has released a slick video app for the iPad this morning, where videos shared by friends in your social networks are combined with videos from hundreds of content providers to create a compelling personalized experience. Frequency will feel familiar for users of the Flipboard social magazine in terms of its ease of use, immersiveness and customization. Flipboard has helped demonstrate that with the proliferation of content available online, breakthrough packaging and presentation can deliver much higher user value. Frequency aspires to the same goal, but focused specifically on video.
The Frequency app allows you to follow "channels" from content providers across conventional categories (e.g. Politics, Sports, Business, etc.) which are constantly updated. Channel buttons are then added to a scrolling, horizontal navigation bar. When you select a channel, the latest video in that channel's feed begins playing automatically. Video is culled from the content provider's MRSS feeds and other web crawling by Frequency. For social networks, Frequency inspects each link that's included in your friends' activity and if it detects a reference to a video, that video is embedded into that channel too. You can further personalize by going to Frequency.com and searching by specific topics (e.g. Netflix, Google TV, etc.) to create specialized channels that are added to your UI. Another handy feature is the Watch Later button, which creates a folder for subsequent viewing.
I played around with Frequency over the weekend, and like Flipboard, it has done a really nice job of letting you browse through all of the video that's been collected and quickly play what looks appealing (see screen shot below). This is where the iPad's touch navigation really shines and differentiates from an online click experience. Note, Frequency isn't hosting any of the videos, nor is it interfering with the content provider's business model. In a demo last week, CEO/founder Blair Harrison explained to me that Frequency's aim is to help content providers have their video discovered and to help consumers streamline their experience. If ads are embedded with the video stream they'll play too. Like Flipboard, Frequency is all about driving more usage. Frequency also isn't monetizing usage yet, the 2012 goal is building traffic only.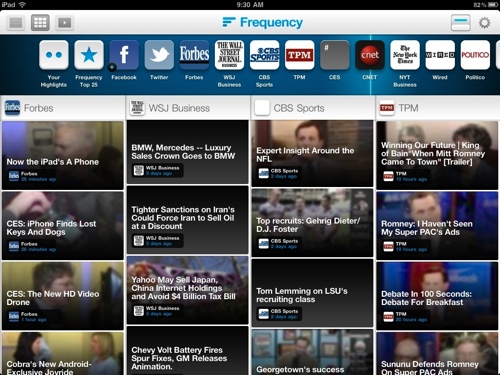 In addition to the iPad app and Frequency.com, Frequency is also being made available on Samsung SmartTVs in 2012 across all English-speaking geographies and Korea. SmartTVs are one of the hottest categories and as they proliferate, Frequency will gain added distribution. At a higher level, Frequency represents yet another challenge to the incumbent pay-TV model: as users can more easily personalize short and long-form video in one place, and then gain access on their TVs, their time spent viewing conventional TV will fragment further. This cycle will accelerate as online-only video quality continually improves.
Frequency is also announcing an integration with Brightcove this morning which allows publishers using Brightcove's Video Cloud to automatically publish to Frequency and pass along their metadata, while ensuring playback across all Frequency-compatible devices. Blair said other OVP integrations are pending.
Frequency is helping create a new product category in personalized video aggregation. No doubt there will be plenty of competition, and big players like YouTube and Facebook already offering alternatives to differing extents. As online video expands, and adoption of tablets grows further, a significant tailwind is being created for users to find ways of optimizing their experience. Frequency is going to be worthy option.