Monday, June 13, 2011, 6:01 PM ET
|
On the eve of the Cable Show, Comcast and Skype are announcing a partnership that will enable TV-based HD video calling. Comcast subscribers using the new service will be able to make Skype video and audio calls while at the same time watching TV. On-screen caller ID will pop-up when a Skype call is received. A Comcast spokesman told me last week that customer trials are set to begin soon (word actually began leaking out last week).
For Skype, the partnership is another route into the living room as it seeks to become a ubiquitous communications platform. Early last year Skype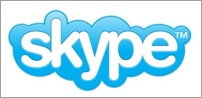 announced it was working with Samsung and Panasonic to embed the Skype app in certain connected TV models, and it also offers a variety of HD web cams for sale on its site. For Comcast, Skype is an enhancement to its Xfinity TV service and mobile app that creates some interesting new integrated communications and social media experiences.
Sexy as this sounds, the catch here is that Comcast subscribers will have to buy (or lease) a Skype-specific adaptor box from Comcast in addition to acquiring the HD camera. That's because unlike the connected TVs Skype is working with, existing Comcast set-top boxes aren't WiFi-capable, so the adaptor box is required to get onto the Internet to enable the Skype service.
While Comcast plans to package the adaptor with a new remote control that has a QWERTY keyboard for easy texting, this could be a challenging sell for a couple reasons: many target users are already accustomed to "second-screening" with Skype-enabled iPads, smartphones and laptops while watching TV and there's a general reluctance to buy single-purpose devices. In addition, as connected TVs and other connected devices proliferate, the appeal of a single-purpose adaptor box diminishes further. Getting these types of users to spend additionally to have Skype on their TVs, even with the enhancements the integration offers is a question mark.
The Comcast-Skype approach is certainly a better value than expensive telepresence systems like Cisco's umi. And, as pay-TV operators like Comcast begin migrating to all-IP delivery (and stay tuned for a big demo by Comcast CEO Brian Roberts on this on Thursday morning) no question Skype on TV will become an increasingly natural experience.