Wednesday, August 19, 2015, 12:11 PM ET
|
It's been a rough few weeks for all companies in the TV and pay-TV industries as cord-cutting and advertising shifts have taken center stage. Stock market sentiment has turned bearish as investors have extrapolated that the long-stable days of TV and pay-TV are officially over.

But a more granular analysis of actual video and broadband subscriber data for Q2, as well as a clearer understanding of what's driving the market forward, suggests that such a broad brush approach to all players is misplaced. In reality, big cable operators had a standout second quarter in both video and broadband and should be poised for even further gains going forward as OTT becomes the single biggest industry influence.
First the numbers. There are a range of estimates for overall pay-TV video subscriber performance for Q2, but according to Leichtman Research Group (my typical go-to source), the 13 biggest pay-TV operators, representing 95% of the market, lost almost 471K subscribers, compared to 305K in Q2 '14. But the top 9 cable operators halved their losses, dropping just 260K subscribers in Q2 '15 vs. 510K lost in Q2 '14, their best performance since Q2 '08, according to LRG.

Within the cable sector, Comcast and Time Warner Cable were the best performers, with Comcast reducing its Q2 '15 loss to 69K vs. a loss of 144K in Q2 '14 and TWC reducing its Q2 '15 loss to 43K vs. a loss of 147K in Q2 '14.

Conversely, Q2 '15 was a bloodbath for satellite and telco operators. Satellite operators Dish Network and DirecTV lost 214K video subscribers in Q2 '15 vs. a loss of 78K in Q2 '14. Digging a little deeper, the 81K loss for Dish (vs. a loss of 44K in Q2 '14) would have been dramatically worse but for the introduction of Sling TV whose results Dish now lumps into its overall performance, obscuring the true losses of the traditional Dish pay-TV service. It was ugly for telcos Verizon and AT&T, which gained 4K in Q2 '15, down from a gain of 290K in Q2 '14. Explanations for satellite and telco reversals include reduced Q2 promotions, stricter credit standards and importantly, inferior products vs. cable.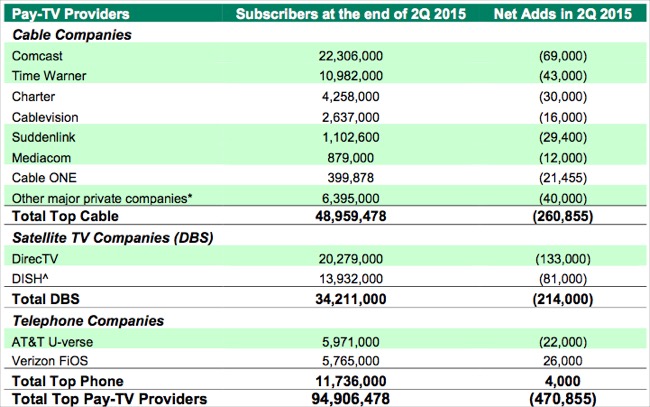 The Q2 '15 broadband results were even more impressive for cable. The top 17 broadband ISPs, which account for 89 million subscribers, or 94 million subscribers, generated a net addition of 360K subscribers. But of that amount, the top 10 cable ISPs drove approximately 512K additions, while the top 7 telco ISPs lost approximately 152K subscribers, their worst performance ever, according to LRG and a huge reversal from the small 2K gain in Q2 '14.

Cable ISPs' Q2 '15 additions were 130K or 34% higher than the 382K additions in Q2 '14. In fact, Q2 '15 was the best quarter by far of any recent second quarter for cable broadband additions, far surpassing Q2 '13 (+297K), Q2 '12 (+328K), Q2 '11 (+272K) and Q2 '10 (+344K). All of this is even more noteworthy given the increased maturity of broadband, which had 89 million subscribers at the end of Q2 '15 vs. 73.5 million at the end of Q2 '10.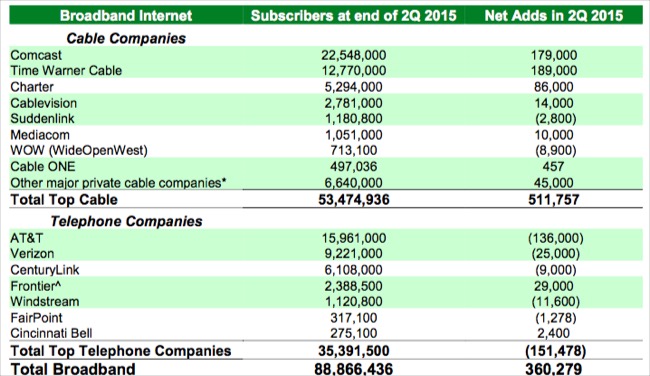 Cable broadband is clearly benefiting from having a superior, faster and more widely-available service than telcos, whose footprint is not only more geographically limited, but also still heavily titled toward slower DSL connections. The rapid adoption of online video, especially for long-form, living room viewing via connected TV has been a huge boon for superior cable broadband connections (though also an enticement for cord-cutting and cord-nevering).

With Q2 as the background, it seems like there's significant opportunity for cable to build on both video and broadband gains. The linchpins are improved video experiences and robust broadband. And OTT is at the heart of both of these.

Outside of TV Everywhere access, the most important video enhancer cable operators can pursue is the melding of video and OTT services via advanced set-top boxes for unified video experiences. Yesterday I wrote about why Comcast integrating top OTT services would be a huge win for subscriber retention and acquisition. As other big operators (particularly Charter, which will become a dominant number 2 video provider assuming the TWC acquisition is approved), also embrace OTT, they too will benefit.

The key to this is deployment of advanced set-tops which can run IP apps and should be at the top of every cable operator's to-do list given the success and profitability of Comcast's X1. Unless telcos can match these OTT integrations, cable will have an even more clearly differentiated video offering, which is even more reliant on fast broadband connections.

That leads to cable's second linchpin - better broadband to deliver outstanding OTT experiences to the living room. Despite AT&T CEO's recent assertion that with the DirecTV deal now done, it will "lead the evolution of video," it's hard for me to understand how that's remotely possibly without a strong broadband service offering. As I wrote last year when the deal was announced, with the absence of the broadband piece, the DirecTV deal is backward-looking and too focused on pay-TV. Maybe AT&T can generate an ROI using cost-cutting and cross-selling, but it's hard to see any significant broadband innovation that would compete with cable, if it continues to execute.

The reality is that cable has resoundingly won the broadband race. Cable's hybrid fiber coaxial networks, in concert with ever-better data transmission equipment, have proven to be superior in performance and scalability. DSL has been left in the dust and telcos' limited fiber footprints leave them uncompetitive at scale.

The new game-changer for cable is the momentum of OTT services. Even as OTT shifts audiences and ad spending away from traditional TV, they provide cable a window to integrate them and provide greater value to subscribers. And of course they drive interest in better broadband which leads more people to cable's doorstep. I don't see OTT's momentum slowing any time soon, which in turn means that if cable fully embraces OTT, it could turn out to be one of its biggest beneficiaries. I know that may strike some as counter-intuitive, but in a saturated video and broadband world where incremental growth is mainly about share-shifting, cable's superiority to satellite and telco positions it favorably.

There's a lot of hand-wringing in the TV/pay-TV industries these days, but I think a closer examination reveals that the real winners and losers are starting to emerge. To be sure, cable faces its challenges, but in reality OTT offers it some critical competitive opportunities that should help it gain both video and broadband market share.