Private video-related companies raised at least $179.8 million in Q4 '10, bringing their total raised in 2010 to just over $750 million, according to public sources I track. Among the 22 companies raising funds the largest reported were by 3-screen video processor RGB Networks ($20M), which also acquired RipCode, a mobile video solutions provider in June 2010; Internet TV platform Verismo ($17M); and service provider software company BNI Video ($16M). Once again, the most popular categories for financings were software, content delivery and advertising-related; aside from $1M debt that Next New Networks raised, no new original video content companies were funded.
As the chart below shows, the Q4 total is a solid bounce-back from Q3's $100M (after excluding the $50M raised by Chinese video site Tudou). It further demonstrates the enthusiasm investors have for the online and mobile video sectors, which was driven throughout the year by positive news/research underscoring strong consumer adoption.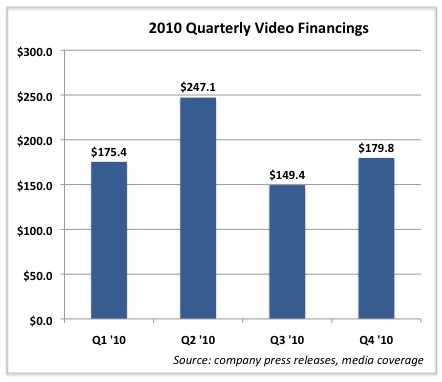 In addition to the private financings, deal activity in the video space in Q4 '10 also continued apace. Below the list of financings, I have also listed the quarter's deals. Also notable in Q4 were the $200M IPO by Chinese video site Youku (whose highflying shares currently trade at about 3x their offering price); a $31.2M secondary share offering by video search engine blinkx on London's AIM; and wireless broadband ISP Clearwire's $1.1B debt placement (which came amid intensifying competition from other carriers' 4G rollouts). In Q4, Hulu also cancelled its widely-rumored 2011 IPO plans. And in the rumor department, Google/YouTube is reportedly planning to acquire independent video producer Next New Networks.
Following is the list of financings that I tracked during the quarter, the date disclosed and new investors identified if applicable. Links are provided to the companies' press releases, or to relevant media coverage if none could be found (note that I haven't verified media coverage with companies themselves). If I've missed anything or you find an inaccuracy, please post a comment.
Financings:
TubeMogul

($10M) - Oct. 8 - Foundation Capital
BNI Video

($16M) - Oct. 12 - Charles River Ventures, Castile Ventures, Comcast Interactive Cable, Time Warner Cable, Cisco
SundaySky

($12M) - Oct. 12 - Norwest Venture Partners
VeeBeam

($6M) - Oct. 12 - Amadeus Capital Partners, Intel Capital, Oak Investment Partners
Oversi

($4.9M) - Oct. 18 - Existing investors
Sharethrough

($5M) - Oct. 18 - North Bridge, Floodgate
Wham

($3M) - Oct. 18 - Palomar Ventures
Knotiki

($10.7M) - Oct. 20 - MK Capital
RGB Networks

($20M) - Oct. 25 - Existing investors
Adap.tv

($4.5M) - Oct. 25 - Existing investors
ConteXstream

($14M) - Nov. 1 - Comcast Interactive Capital, Verizon Investments
LiveU

- ($11M) - Nov. 2 - Pitango Venture Capital
Movieclips.com

($3M) - Nov. 9 - Shasta Ventures, First Round Capital
RealGravity

($3.2M) - Nov. 10 - Kohlberg Ventures
Rhythm New Media

($10M) - Nov. 10 - QuestMark Partners
Clearleap

($4.5M) - Nov. 11 - Existing investors
Tokbox

($12M) - Nov. 14 - DAG Ventures
Verismo

($17M) - Nov. 16 - Intel Capital
BlackArrow

(Undisclosed) - Nov. 16 - Motorola Mobility
vzaar

(Undisclosed) - Nov. 23 - Oliver Stone, others
SpotXchange

($12M) - Dec. 15 - H.I.G. Growth Partners
Next New Networks

($1M) - Q4 filing debt - Existing investors
Deals:
Specific Media acquires BBE - Oct. 18
Paltalk acquires Camfrog - Oct. 20
Undertone acquires Jambo Media - Nov. 8
Tremor acquires ScanScout - Nov. 8
Juniper acquires technology assets from Blackwave - Nov. 18
Digitalsmiths acquires Gotuit - Nov. 23
Google acquires Widevine - Dec. 3
Tribune Media Services acquires CastTV - Dec. 16
AT&T acquires spectrum from Qualcomm - Dec. 20
Rovi to acquire Sonic Solutions - Dec. 22
Motorola Mobility acquires Zecter - Dec. 22
What do you think? Post a comment now (no sign-in required).