Amazon and Roku announced yesterday that Amazon's VOD service will soon be available on Roku's $99 Digital Video Player. The deal starts to make good on Roku CEO Anthony Woods's intentions about "opening up the platform to anyone who wants to put their video service on this box."
With Amazon VOD's 40,000+ TV programs and movies added to the 12,000 titles already available to Netflix subscribers via its Watch Instantly service (plus more content deals yet to come), little Roku is starting to look like a potentially important link in the evolving "over-the-top" video distribution value chain.
More interesting though, is that I think we're starting to see the battle lines drawn for supremacy in the download-to-own/download-to-rent premium video category between Amazon on one side and Apple on the other. Though Apple dominates this market today, having sold 200 million TV programs alone, there are ample reasons to believe competition is going to stiffen.
Apple is of course in the video download business for the same reasons it was in the music download business: to drive sales of the iPod and more recently - and to a lesser extent - the iPhone. According to the latest info I could find, iTunes now has 32,000+ TV programs and movies, including a growing number in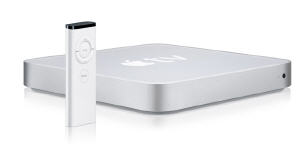 HD. For now that's slightly less than Amazon VOD, but my guess is that over time the two libraries will be virtually identical.
While Apple has a near monopoly on portable viewing via the iPod and iPhone, it is a laggard in bridging broadband-to-the-TV. Its Apple TV device, introduced in January, 2007, and meant to give iTunes access on the TV, has been an underperformer. Certainly a detractor has been price, with the 40GB lower-end model still running $229. But more importantly, as an iTunes-only box, Apple TV perpetuates a closed, "walled-garden" paradigm that consumers are increasingly rejecting (as companies like Roku astutely understand).
For Amazon, the world's largest online retailer, video downloads are a rich growth market. The company brings significant advantages to the table, starting with tens of millions of existing customer relationships with credit cards or other payment options just waiting to be charged for video downloads. Amazon has strong brand name recognition and trust. And of course, it has a near-limitless ability to cross-promote downloads with DVDs and other products.
Determined not to be left behind in the great race to get broadband delivered video all the way to the TV, it has been integrating its VOD service with 3rd party devices like TiVo, Sony's Bravia Internet Video Link, Xbox 360 and Windows Media Center PCs. Its latest deal with Roku is far from its last.

Amazon VOD's adoption will benefit from the fact that there are many non-Amazon reasons that people will be buying these devices. For example, consider Roku, TiVo and Xbox 360. With Roku, Netflix is fueling sales. As Netflix subscribers realize that new releases are generally not available in Watch Instantly, but are through Amazon VOD on Roku, they'll be prone to give Amazon VOD a try (the Netflix limitation is course due to Hollywood's windowing, and another reason why I believe it's crucial for Netflix to make deals with broadcast networks for online distribution of their hit programs). For TiVo and Xbox 360, each has a well-defined value proposition for consumers to purchase. Amazon VOD's availability is a pure bonus for buyers.
Still, Amazon VOD's Achilles heel that it is missing a portable playback companion on a par with the iPod and iPhone. Users clearly value portability and Amazon needs to solve this problem (hmm, can you say "Kindle for Video?"). Yet another issue is that despite its various 3rd party device deals, the user experience will always be governed by these devices' strengths and weaknesses. In this respect, Apple's ownership of the whole hardware/software/services ecosystem gives it significant user experience advantages (which of course it has masterfully exploited with iTunes/iPod).
Apple and Amazon hardly have the market to themselves though. Others like Microsoft Xbox LIVE, Vudu and Sezmi are vying for a place in the market. And then of course there are the VOD offerings from the cable/satellite/telco video service providers, who have big-time incumbency advantages. Not to be forgotten in all of this is consumer inertia around the robust DVD market, which to a large extent all of these video download options seek to supplant.
In the middle of all this are Joe and Jane Consumer - soon to be overwhelmed by a barrage of competing and confusing offers for how to get on-demand TV program and movie downloads in better, faster and cheaper ways. In this market, I believe simplicity, content choices, brand and especially price will determine the eventual winners and losers. These are front and center considerations for Amazon, Apple and all the others going forward.
What do you think? Post a comment now.