Wednesday, July 25, 2012, 10:41 AM ET
|
Netflix reported its Q2 '12 results yesterday, and once again DVD subscriber losses in the U.S. were a driving factor in the company's overall performance. While Netflix added over 500K streaming subscribers, the company lost another 850K DVD subscribers. This has become a persistent theme in Netflix's U.S. subscriber dynamics: modest growth in streaming undermined by significant DVD losses.

In fact, as the chart below shows, over the last 3 quarters Netflix's DVD subscribers (standalone and hybrid with streaming) have dropped by 4.7 million, from 13.9 million to 9.2 million. That 34% drop is even more significant if you broaden the period to include estimated churn during Q3 '11 and forecast churn for Q3 '12. Q3 '11 was the quarter in which Qwikster was announced/withdrawn and the DVD/hybrid price increases were instituted. Churn spiked by about 2 million subscribers vs. Q2 '11; it is probably fair to assume that almost all of that was among DVD subs. For Q3 '12, Netflix's mid-point forecast for DVD subs is 8.5 million, a 700K drop from Q2.
So if you add in the full 2 million incremental sub churn from Q3 '11 plus the 700K DVD loss expected in Q3 '12, then the 5-quarter churn in DVD subs (Q3 '11 through Q3 '12) totals about 7.4 million subs. That would represent approximately 47%, or almost half of the 15.9 million DVD (standalone and hybrid with streaming) subs Netflix likely had back on July 1, 2011 before all the retrenching began. Wow.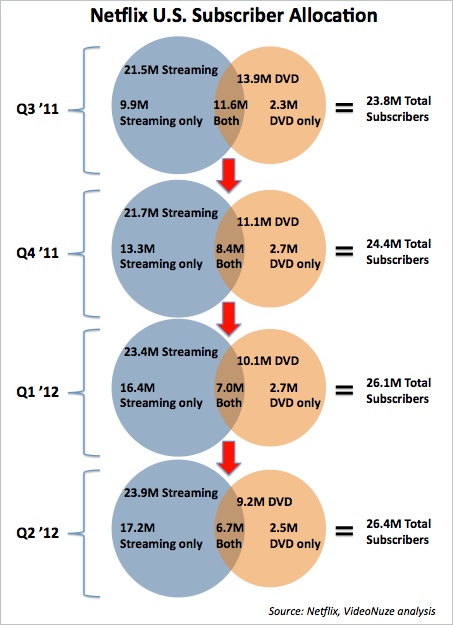 I've been relentlessly critical of Netflix's decision to abandon its DVD business in pursuit of a streaming-only future, and I believe the above numbers help quantify just how damaging the decision has been to the company. Those 7.4 million lost subscribers have cost Netflix hundreds of millions of dollars of profit and cash flow at a time when the company has also pursued an expensive, wide-ranging international expansion. Underscoring how important the DVD business remains, even despite its withering, it still contributed $134 million of profit in Q2, vs. $83 million for streaming in the U.S.

Going forward, reliant solely on streaming for growth, Netflix's future in the U.S. is much cloudier. The 500K+ streaming subscriber gain in Q2 '12, while approximately at the mid-point of the company's forecast, is off considerably from the 1.8 million streaming subs it added a year earlier, in Q2 '11. Netflix management offered tepid guidance for the current quarter yesterday, calling out the upcoming Olympics as a potential drag. However the company is still indicating confidence it can hit its target of 7 million net sub adds for the full year, which increasingly looks possible only with a blowout Q4.

While Netflix reported an impressive 1 billion hours of streaming usage for June - which dwarfs all other video sites - Netflix is also facing significant uncertainty from both content acquisition and competition standpoints. On content - which directly affect product quality and therefore subscriber acquisition and churn - worries include aggressiveness by other OTT players (see Amazon's Warner Bros. exclusive deal from last week as one example) and also the caution that cable networks and studios will be exercising in licensing outside the pay-TV ecosystem (DirecTV's Viacom blackout highlighted the risks of profligate digital distribution to successful carriage negotiations). With evidence emerging that digital cannibalizes certain segments of linear viewing, all networks and studios will be more judicious in digital licensing, requiring ever-greater premiums to compensate for the higher risk to incumbent businesses.

While CEO Reed Hastings brushed aside concerns on this latter point from analysts during yesterday's earnings calls, I think he's underestimating the potential impact to Netflix's own content acquisition efforts. Let's not forget that less than a year ago Starz said "no thanks" to a lucrative Netflix offer due to fear of pay-TV fallout - a meaningful indicator for Netflix's other content negotiations.

Then of course there's competition, a longstanding worry. Netflix benefited enormously as a first-mover in premium streaming, but the landscape is fast changing. Between pay-TV operators' TV Everywhere initiatives, OTT providers (Amazon, Hulu, Verizon/Redbox, etc.) and device-makers own undetermined plans (Apple? Google? Samsung?), the viewing choices consumers have are expanding dramatically. To be sure, Netflix still dominates in all metrics, but now everyone else is gunning for a piece of the action, and bringing their own considerable advantages to bear.

Add it all up and it's increasingly hard to see how Netflix re-ignites growth remotely close to what it experienced in the golden period of January 1, 2010 to June 30, 2011. Netflix's massive unforced error to abandon DVDs - its one true competitive advantage - at the critical time when it needed the business most, combined with seismic shifts in the content and competition landscape have created a Herculean challenge for new CMO Kelly Bennett in the core U.S. market.