Monday, April 25, 2016, 11:37 AM ET
|
The latest evidence of the complete transformation of the living room landed in my inbox last Friday morning as I was preparing to head out of town: according to Leichtman Research Group's latest study, a whopping 65% of U.S. TV households now have at least one TV connected to the Internet.

And among that 65% of U.S. TV homes, 26% have one device, 22% have two, 29% have 3-4 and 23% have 5 or more. That means approximately 15% of U.S. TV homes are in a similar category as me (I have a Tivo, Apple TV, Roku, Fire TV and Chromecast) and I thought I was an extreme case because I'm in the business. LRG said the mean for those with a connected TV is 3.3 devices.
Equally impressive is that in 2010, connected TVs were in just 24% of U.S. TV homes. A look at the graph below shows both how rapidly and how smoothly connected TV devices have been adopted - they've gone from being in less than a quarter of homes to being in a majority over the past 6 years. How many other consumer electronics categories can make a similar claim?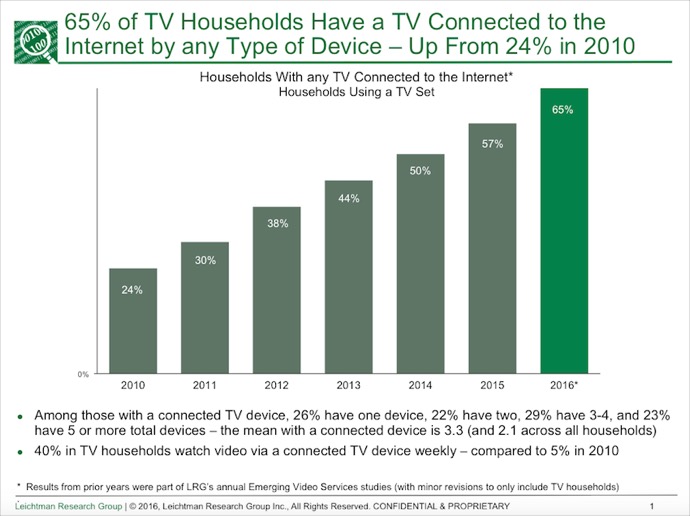 But more important than the numbers is the implication: the living room has been permanently transformed, along with viewers' expectations. The living room video experience is now firmly in the third phase of its evolution. The first phase was characterized by access to a handful of broadcast channels. The second phase was the age of the "500-channel" universe, ushered in by cable TV and later by satellite and telco.

Now we're in the third phase, where inexpensive, easy to use connected TV devices have become completely mainstream. Accompanied by a symbiotic proliferation of easy to access, high-quality video services, connected TVs will no doubt continue to penetrate even more deeply. All of this is of course enabled by high-quality wired and wireless broadband delivery, which is the lifeblood of the Internet economy.

Inevitably this means more market fragmentation lies ahead as viewers continue to align their viewing, spending and loyalty to sources they proactively choose and value. The eventual winners will be those that enable choice and deliver value. Those who embrace the new living room, with all of its challenges, rather than those who hold fast to outdated business approaches, will succeed.

Being immersed in the NABShow Online Video Conference last week - listening to all of the 50+ speakers across 15 sessions, was a great reminder to me of the incredible innovation that's underway in both video and TV, helping reshape the living room experience. Democratization of video creation, super-serving niche audiences, high-quality live-streaming, 360 degree viewing, virtual reality, hyper-targeted programmatic advertising, immersive storytelling - these were just some of the innovations that caught my attention.

Just as the Internet has disrupted so many other industries over the past 20 years, it is now doing the same in video and TV. The transformation of the living room is laying the foundation for new viewer experiences that were unimaginable until very recently. Going forward, it's going to be a very bumpy ride for all industry participants, but for viewers it's going to be exhilarating.