Tuesday, August 1, 2017, 8:58 AM ET
Posted by:

Jonathan Weitz
Partner, IBB Consulting
More people are paying for more streaming video. Netflix's Reed Hastings and Amazon's Jeff Bezos have insisted that people owning multiple subscriptions will be the norm. On Netflix's recent Q2 earnings call, Hastings emphasized that Amazon's success in certain markets has not taken away from Netflix's.

A recently published report from IBB Consulting shows the underlying trends behind these claims, revealing that half of paid streaming users subscribe to at least two services. Streaming users are also prepared to spend on additional services or even pay more for the subscriptions they already have. In fact, based on average SVOD pricing, a majority (61%) of SVOD subscribers are willing to pay at least 20% more for their favorite service. 29% of paid OTT video subscribers plan to add an additional paid service within the next six months.
Dive into the details of what's driving this spending and there's a picture that should grab the attention of any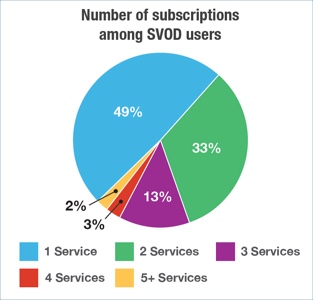 content provider with an OTT service or planning to launch one.

Millennials are more likely than any other demographic to subscribe to three or more paid OTT services. Additionally, millennials are more likely than any other demographic to be willing to spend on live streaming content. Overall, interest in live TV is strong, with nearly half (47%) of paid streamers willing to pay beyond their current subscription costs to add live content.

The key takeaway from all of these good news stories? Paid OTT is now truly mainstream and poised for growth. Now, there is a window of opportunity for industry stakeholders to capitalize on these developments. For media companies there is an opportunity to launch and get to scale before competitors. For operators, there is an opportunity for smart bundling and packaging with Pay TV and broadband.

Success will come from prioritizing development of subscription services that are built around a core set of world-class capabilities across discovery, curation, great video quality and more. These services will need to be supported by cost-efficient and effective marketing campaigns designed for retention and acquisition.

Consumer Expectations In A World Of Growing OTT Opportunity

Today, every service a consumer considers must deliver on their heightened expectations by evolving to become a world-class offering or launching as one.

In our work supporting development and scaling of video products and platforms, services and businesses, we have found that world-class services must:

- Impress with a high-quality viewing experience that is supported by compelling features, and an attractive and intuitive interface, across multiple devices;

- Entertain with instant access to a diverse set of flagship content and easily findable ancillary programming that feels familiar but with new things to discover; and

- Constantly grow the paid user base, move users through the trial and purchase funnel, drive referrals, and maintain low churn

Aligning Business And Technical Strategies With Key Trends

As noted earlier, there are a considerable percentage of paid streamers willing to pay more for their existing services if given the option to add live content. Meeting this demand from a network perspective is becoming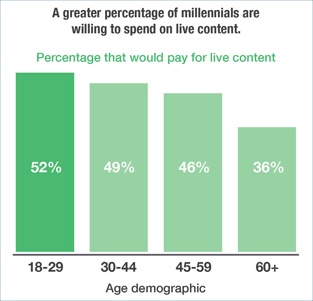 easier as CDN providers invest heavily and the convergence of HLS and MPEG-DASH distribution technologies continues. This is supporting the ability to narrow the focus of delivery efforts to just one or two approaches, resulting in unprecedented optimization. As devices connected to most networks are increasingly able to support high-resolution content without buffering, consumers are more likely to trial live streaming. IBB expects that this, in combination with greater availability of live OTT content availability, will result in a turning point for live streaming during 2017.

Perhaps one of the most important findings from the study IBB conducted is just how much millennials are embracing paid OTT. In particular, two-thirds of millennial men that subscribe to a streaming service say they'd spend on live content.

Strong acquisition marketing will be important for capturing the potential spend that exists. And having the right tools and data to find these customers when they are ready to buy will be critical. IBB counsels SVOD services to enhance subscriber and revenue growth efforts by executing across focus areas that include segmentation, programmatic, cross-channel attribution, email marketing and push messaging, CRM, acquisition, retention, predictive modeling and marketing automation.

A big part of retention is keeping subscribers happy and helping them continue to find value in the service. Increasingly, this means integrating features that address the range of ways they prefer to find content, which spans viewer guides, recommendations, in-app search and more.

With constantly expanding libraries, effective recommendations and discovery are key to the overall SVOD customer experiences. IBB recommends an approach that optimizes a combination of differentiated human curation, social recommendations and algorithms to maximize ROI.

Achieving World Class in SVOD

Paid OTT services have the potential to become revenue centers that lay the foundation for future offerings. But they have to look incredible, function smoothly and deliver consistently outstanding customer experiences. And as OTT becomes more international, differentiating on a global scale will grow in importance.

Speed of execution will also be critical, as the window of opportunity that is open today will narrow as competition becomes ever fiercer.