Friday, February 26, 2010, 10:15 AM ET
|
The brinksmanship between Disney and the 3 largest U.K. theater chains over whether they would show Tim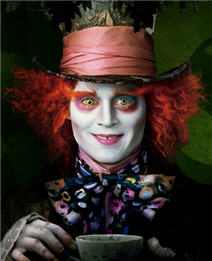 Burton's new "Alice in Wonderland" film is officially done, with all 3 chains now signed on. As I described last week in "In Trying to Preserve DVD Sales, Studios Are in a Tight Spot," in a bid to boost DVD sales, Disney was looking to trim the DVD release of "Alice" to just 12 1/2 weeks after its opening, from the customary 16 1/2. British and other European theaters revolted, angry that the move would diminish their box-office take, a particular hot-button in light of significant investments they've recently made in digital technologies.
Specific details of the Disney-U.K. deals aren't known, but as the Guardian reported, it appears that Disney has agreed to cap the number of movies that will get earlier-than-usual DVD releases and provided some improved financial terms. Despite the U.K. resolution, some other European chains are still holding out, as is the AMC chain in the U.S. Regardless of the final outcome of the "Alice" situation, early DVD releases are going to remain a priority for Hollywood studios who are desperate to stanch the fall-off in DVD sales brought about by the recession and the shift by consumers to rental, subscription and online viewing options. There are many more chapters to be written in this saga.
What do you think? Post a comment now (no sign-in required).