When boxee announced it raised a $6M second round last week it caught my attention for two reasons. First, it was further evidence that broadband video-related companies are continuing to raise money right through the current economic meltdown (industry companies raised at least $64M in Q2 '09, $75M in Q1 '09 and $78M in Q4 '08).
Second, and more noteworthy to me was how much industry experience and insight now backs boxee. The new lead investor in the round was Boston venture firm General Catalyst Partners (joining prior investors Spark Capital and Union Square Ventures), whose portfolio includes broadband video companies like Brightcove, DECA, EveryZing, Maven Networks (acquired by Yahoo), ScanScout, ViTrue and Visible Measures.
Spark also has many investments in the industry, including 5Min, Adap.tv, EQAL, KickApps, Next New Networks, thePlatform (acquired by Comcast) and Veoh. And Union Square is one of the most active firms in the online media/advertising industry with stakes in MeetUp, OddCast, Twitter (with Spark), Tacoda (acquired by AOL) and others.
Beyond the firms themselves are the individuals helping steer boxee. Joining its board from GC is Neil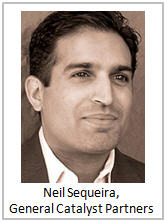 Sequeira, a veteran of the cable industry, who was most recently Managing Director, Technology of AOL Time Warner Ventures. Already on the board is Spark's Bijan Sabet who knows the cable/satellite ecosystem equally well, having done stints at Moxi, WebTV and Apple and Union Square's Fred Wilson, who is deeply immersed in online media and writes a hugely popular blog.
I corralled Neil and Bijan (two old friends) for a phone interview late last week to explain boxee's future and where it fits into the current video ecosystem. Following is an edited transcript.
VideoNuze: What attracted you to invest in boxee?
Neil Sequeira: Three things. The boxee team, the market opportunity and our ability to be a great partner. We think boxee has the potential to be the next generation "Firefox for media," a widely- used consumer platform. That's incredibly exciting to us.
Bijan Sabet: We've been involved with boxee for a while now, and we're convinced the time is right for something like this. boxee has the right ingredients: it is open source and includes social media capabilities, an app store and a huge community of users/developers.
VideoNuze: boxee has gained a loyal following, but it doesn't have a business model yet. What do you see as boxee's business model and it what time frame must it develop it in order to succeed?
BS: boxee's still a very young company, but we have a number of ideas around business models. But the key is patience. The company has a very low burn rate, with around 16 people or so , most of whom are in Israel. The focus for now is building the product and the user base. And the company's been very successful doing that. Last year boxee had 10,000 users, now it has 600,000.
NS: It also has a very excited developer community. But I agree - patience is needed here. Too often companies can get themselves focused to early on a specific business model, which then constrains them. With the new funding, box has room to see how things evolve.
VideoNuze: Hulu recently told boxee to remove its content. What do you think boxee needs to do to win Hulu (and others) onto its platform?
NS: At a high level boxee we believe boxee is an incredible friend to content providers, and we want to work with everyone. We're big believers that consumers want access to everything and that's where the market will go over time.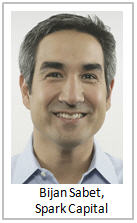 BS: All of us are Hulu fans and of course would love to have Hulu on boxee. But each content provider has its own business model, and has to decide what works best for them. boxee will continue to be a content provider-friendly platform, where different business models can be used and different technologies integrated. We think that's powerful.
VideoNuze: How should established video service providers (i.e. cable/satellite/telco) regard boxee - as friend, foe, or something else?
NS: We want boxee to be regarded as friend and we think boxee can add a lot of value to the ecosystem. Consider for example, the case of TiVo. Early on it looked like a foe. But now see how Comcast is integrating TiVo into its set-top boxes and driving incremental revenue. boxee brings great search, apps and context to the broadband viewing experience. All that will drive usage of broadband Internet connections, which in turn helps "fill the pipe" making cable and telco Internet access services that much more valuable to users - and to their providers.
BS: Agreed. We believe that in an IP world, these things aren't either/or, mutually exclusive. Again look at Comcast, which has great assets like Fancast, and is now working on entitlements with TV Everywhere. boxee can help drive more value from them. This is especially true for certain user segments, like new college grads, for whom the Internet is now far more important than is traditional TV. The point is traditional service providers need to figure out how to delight a variety of user segments. We believe boxee can help.
VideoNuze: You guys and your firms have deep relationships in the cable/satellite/telco industries. How are those folks reacting to boxee?
NS: People in the ecosystem are taking a "wait-and-see" approach. There's a certain amount of fascination, and though we don't see any impending deals, Avner (Ronen, boxee's founder/CEO) has multiple conversations ongoing with the industry.
VideoNuze: Who are boxee's primary competitors?
BS: What Apple and Microsoft are doing is most competitive, though their approaches include both hardware and software. We think of boxee like Android (Google's mobile OS), sort of the "inside-out" version of Apple TV. And we believe convergence device/hardware providers want alternatives.
VideoNuze: How about Roku?
NS: We believe Roku should be partners with boxee. Hardware companies have core competencies and typically those don't include open source media platforms. So boxee can help devices like Roku be even better. We'll have a number of device deals to announce soon.
VideoNuze: A lot has been written about "over-the-top" services. Are they starting to succeed, and if so, what must happen for them to gain further success?
NS: Well, yes, when we look at what Netflix and others are doing already, we do believe over-the-top services are starting to succeed. And we think this isn't necessarily a bad thing for cable operators for example. That's because the video business has had margin compression due to rising programming costs, whereas broadband Internet service has been incredibly profitable for them.
Consider that that cable operators didn't offer DVR or voice services just 10-11 years ago, but now they are a significant driver of ARPU (average revenue per unit). There's a lot more that cable operators can derive from broadband services than they currently are, considering the IP connection is now - for many - the most important connection they have. Content providers know this and are looking for more, not fewer, ways to distribute their content.
BS: Agreed, look at an example like CNBC, whose ratings are down something like 30% year-over-year. What's causing this? Is there demo changing? Is the web providing alternatives? Some of both? The point is content providers need to figure out how to control their destiny. That doesn't mean they have to give their stuff away for free. But it does mean they need to figure out how to distribute as effectively as possible. We want to help them do that. You can't go backwards here. Broadband is too interesting and too important to too many people.
VideoNuze: Thanks guys.