Monday, April 11, 2011, 10:54 PM ET
|
Zixi, a Boston-area company that enables HD video delivery through the public Internet, announced its first round of $4 million today from Schooner Capital, Sid Topol (founder of Scientific Atlanta) and Reese Schonfeld (former CEO of CNN). Zixi's software optimizes network bandwidth while minimizing delays typically found when initiative playback and eliminating buffering. Zixi does this by adding its own software layer geared for video delivery on top of standard Internet delivery protocols. Zixi works for both on-demand and live streaming video.
I have been tracking Zixi for several years since getting to know its CEO Israel Drori, who with his partner have been boot-strapping the company. I've seen their demo numerous times, but I saw Israel today at the NAB Show and snapped the below picture of it, which doesn't really do Zixi real justice. Zixi starts up a video encoded at 6 mbps instantly and plays it smoothly throughout. It was at least 10-15 seconds into playing when the non-Zixi video being delivered to the bottom TV began playing (and promptly ran into buffering issues). And just to add a little flair to its demo, Zixi is sourcing the demo video from a server in Israel's Boston-area home and routing the it through Singapore to deliver it to the NAB Show floor. It's all a little mind-blowing when you see the quality.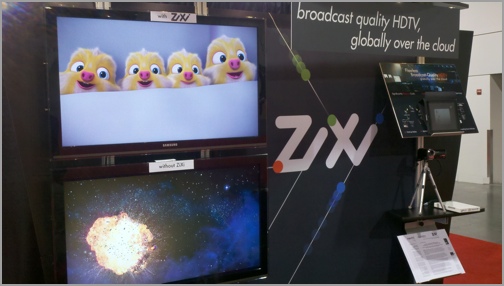 Zixi is working directly with content providers, over-the-top operators and consumer electronics companies. Last Fall, Zixi unveiled its first connected device integration, with the NETGEAR NeoTV 550 Media Player. Zixi also just named Vivek Pathela, former GM and VP of NETGEAR's home and consumer products business as its EVP of Products, Marketing and Operations, which should really help Zixi gain adoption. Zixi's been deployed by Columbus, OH TV station WBNS-TV, a number of B2B content providers like Thomson Reuters and various religious broadcasters, with others to follow.
If you're at the NAB Show, stop by Zixi's booth in the South Upper Level near the Destination Broadband section. It's definitely worth seeing and keeping an eye on.