I've been writing for a while now that broadband gives non-video media companies a whole new strategic growth opportunity. This is especially true for magazines with well-defined brands, strong advertising relationships and sought-after audiences. Few magazines fit that description as well as Vogue, Conde Nast's high-end fashion bible. So I was pleased to read about a month ago that Vogue intended to launch Model.Live, a 12 episode original broadband-only series, in a partnership with IMG.
Model.Live went live recently, and I've caught the first couple of 8 minute episodes. Shot in a reality/documentary style, Model.Live follows the lives of 3 young and aspiring models. With a budget of $3 million, these productions do not feel like run-of-the-mill low-end indie video. There are multiple camera angles, great lighting, and extensive on-location shoots. Absent are the high-end graphics and faux cliff-hanger moments typically seen on TV contest shows.
While many will find the subject matter and dialogue insipid (19 year-old Dutch model Cato's mildly defiant "I can party when I'm 30..." justification for deferring college is a classic eye-roller); my guess is that for Vogue readers and for those interested in the fashion world, these authentic behind-the-scenes peeks will be quite intriguing. For example, in episode 2 we hear Cato's mother expressing her authentic unease with the modeling world's fame and glamour (of course, her star-struck sister more than offsets these reservations).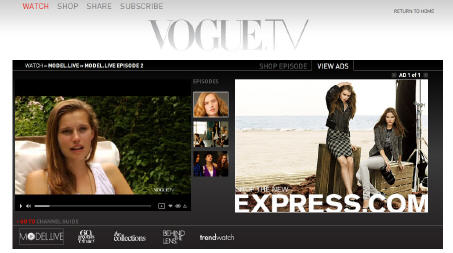 The video player allows sharing through email, and easy downloading to iPods. Curiously though, there's no commenting or rating available, two tools now widely used to generate audience interactivity. Also missing is any email or RSS alert function so it's not clear how a fan would know when the next episode will be released. There's not even a teaser for what's coming next, a standard promotional tool for serialized TV shows.
Still, Vogue has definitely nailed certain things. It is smartly distributing Model.Live on the social network Bebo, which is sure to gain the show widespread visibility among targeted younger audiences (it is supposed to be available on Hulu and Veoh as well, though searches at both sites yielded no results). And, for a deal in the reported "low seven figures," it signed up Express to be the program's sponsor. Express gets huge visibility in the right panel of the video player, with clothing purchases a few clicks away. Vogue's ability to drive awareness and revenue for Express will certainly influence whether Model.Live continues on after its first season.
Model.Live actually follows several other programs Vogue has released ("Behind the Lens," "The Collections," Trend Watch") yet, it is clearly the most ambitious. These kinds of shows are a natural extension for the brand, and I believe are essential as Vogue seeks to engage an increasingly online audience seeking out video. Other magazines should be taking note.
What do you think? Post a comment.