Thursday, February 2, 2012, 9:33 AM ET
|
The power of the video syndication model is on full display in the online sports category, where 2 of the top 3 properties in December, 2011 were little known, early stage video syndicators, rather than well-known media brands and sports leagues. As the chart below shows, the #2 slot belonged to CineSport, a company I wrote about 6 months ago, with 15.7 million unique viewers while the #3 position went to Perform Sports, a year-old entrant, with 14.6 million unique viewers. Both trailed ESPN with 24.7 million unique viewers, but were still well ahead of stalwarts like CBS, Turner and Fox. Earlier this week I spoke to Juan Delgado, Managing Director of Perform Americas to learn more about its syndication formula.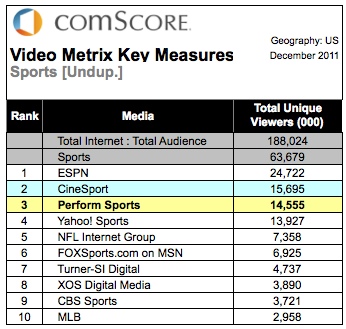 As background, Perform is a public company in the U.K. which operates numerous sports-related sites of its own and for partners, and distributes video to multiple parties, including online bookmakers and traders. In 2010 Perform launched its "ePlayer" division, which licenses sports highlights from rights-holders and offers an embeddable video player to distribution partners. Perform sells all the ads and shares revenue with the distributors, which currently number over 1,000 globally. In the U.S. the group includes web sites of mainly local media properties like NY Post, NY Daily News, Boston Herald, Chicago Tribune and San Francisco Chronicle (SFGate.com). Yesterday Perform also announced the LA Times and Sporting News on AOL as new distribution partners.

On these sites, in selected sports pages, you'll see Perform's ePlayer embedded, offering multiple sports highlights. A key deal for Perform is the exclusive rights for Major League Baseball highlights for distribution to local media properties. In addition, it offers highlights from NBA, NHL, NASCAR, UFC, along with professional soccer and golf, and men's basketball from the SEC, Big Ten, Big 12 and ACC. Perform curates these highlights into playlists and distributes them via the ePlayer to its local distribution partners. Unlike CineSport, which also produces its own original content featuring local sports journalists, Perform focuses solely on highlights, which Juan believes are the highest value to both viewers and advertisers.

Aside from their differences in content strategy, both Perform and CineSport are succeeding with the same core ad-supported syndication model. They are each part of the "syndicated video economy" I've been writing about since 2008, demonstrating that in the online video era it's very important to distribute content to where audiences already are, as opposed to focusing exclusively on driving eyeballs to a specific destination. In the case of ESPN, for example, which has the most powerful brand in the sports industry, the destination model works. But for practically all others, and particularly for the numerous properties that are resource-constrained, syndication provides great content, at low cost and with revenue upside. It also unlocks additional online revenue for sports rights-holders.

Both Perform and CineSport recognize these dynamics, and as online video viewership continues growing and the ad-supported model matures, I expect each will see ongoing success.