5Min, a video syndication company specializing in "how-to" content, is announcing this morning that it has raised a $7.5 million series B round, led by new investor Globespan Capital Partners with participation from prior investor Spark Capital. The new round comes on top of the $5 million first round the company raised in January '08. I spoke with CEO Ran Harnevo yesterday to learn more about the company's progress.
5Min, which I last wrote about in Dec. '08, is a textbook Syndicated Video Economy company. As Ran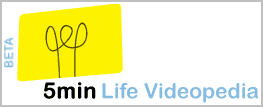 explained, its key value proposition is an automated, comprehensive solution for sites seeking to incorporate high-quality relevant video that also offers content providers viewership reach and awareness beyond their own destination sites. There is no cost to either distributors or content providers to participate and resulting ad revenues are split among the parties.
The model is enabled by 5Min's VideoSeed syndication platform, which matches video from 5Min's 100,000+ title catalog to pages that its distribution network's sites specify. The matching is based on the video's metadata which 5Min has assigned and a semantic understanding of the pages themselves. 5Min's video player is embedded on these pages, providing content and ads. The network now consists of hundreds of horizontal (e.g. Answers.com, Wikia, etc.) and vertical sites that reach over 200 million unique visitors/mp generating 14 million unique viewers/mo. This is in addition to the 3.5 million unique visitors to its 5Min.com site. Ran wouldn't specify how many actual video views the network is driving, but said it's in the "tens of millions per month."
5Min focuses on key categories in lifestyle, knowledge and instructional and has built critical mass important for advertisers seeking to contextually target these viewers. 5Min has its own sales team and also uses 3rd party ad networks. Primary units are pre-rolls and overlays. Ran says the company has sold out 100% of its inventory, but would only say CPMs are on the "high end of the market."
5Min continues to aggressively grow its content library, but without producing any of its own content. Ran believes strongly that there's plenty of great content out there already, the challenge producers have is getting it more widely distributed, viewed and monetized (all the things 5Min focuses on).
Historically the company has sourced mainly from DVDs, small-to-medium sized video producers and semi-professionals (all with agreements). 5Min is also starting to offer branded content from partners like UGO Entertainment, Motor Trend, Ford Models, Kiplinger's and others. Ran also alluded to upcoming deals with tier 1 video brands. The how-to category itself is chock full of competitors like Demand Media, Howcast and VideoJug that are producing their own video, but at this point the only how-to specific provider 5Min has a deal with is MonkeySee.com.
I'm not surprised by 5Min's success. It is playing to many of the most important trends in the online video space I've written about repeatedly: fragmentation of audiences, the importance of search and SEO for discovery, higher CPMs through targeted advertising, technology to drive distribution scale and the superior value to consumers in certain categories (especially how-to) of video-based content over traditional text-based alternatives. As more and more sites recognize they need video to stay competitive, but that producing it themselves is an expensive and uneconomic proposition, syndicators like 5Min will enjoy ongoing success.
What do you think? Post a comment now.