Thursday, February 12, 2015, 12:12 PM ET
|
Sling TV has received an enormous amount of attention since being announced last month at CES. Some hyper-enthusiastic observers have heralded Sling TV as a sign that traditional pay-TV is on the verge of crumbling. But, having now spent some time with Sling TV, I think a more accurate assessment of Sling TV is that it is fundamentally an old school linear TV service, modestly freshened up with a new online wrapper. In its current form, Sling TV looks very unlikely to gain much traction.
I used Sling TV on both my iPad and Roku. Getting started was a breeze, I simply entered my name, email and credit card info. Then I downloaded the Sling TV app to my iPad and updated my Roku settings. Within minutes I was watching. To be sure, this signup experience is a dramatic improvement over dealing with a typical pay-TV provider, and is much more OTT-like.

Contrary to the experiences of some other reviewers and recent hiccups, I thought the video stream quality was very good on both devices, and the channel changing was no less responsive than other OTT services I use, like Netflix and Hulu, or my Comcast X1 service.

However, the first issue arose when I tried to access Sling TV on both devices simultaneously. Because Sling TV limits the account to one stream at a time as I knew, a few seconds after firing up Sling TV on my Roku, my iPad stream stopped and displayed a message "Too many devices are playing video at the same time on this account." It also felt odd to me that Sling TV has chosen to allow the second device to interrupt the first device's experience. Shouldn't the incumbent viewer have "first rights" to the sole accessible stream and the second viewer be told Sling TV is currently unavailable?

More broadly, this limitation immediately puts Sling TV at a disadvantage compared to other OTT services that offer multi-user access (and often are even quite lenient about password sharing). With Sling TV, anyone with a roommate, spouse or child that might want to simultaneously access the service is out of luck.

Relatively speaking though, the single user access is really just a minor issue for Sling TV. The far bigger issue is its linear-only viewing experience. With Sling TV, you navigate the base tier of 12 channels and select to tune into what's on NOW. For anyone (like myself) whose TV watching is 99% on-demand and/or time-shifted, being forced into this linear model was like turning the hands of time back 5 years or more.

Contrary to those who believe Sling TV will reinvent pay-TV, for me Sling TV actually reminded me of the WORST traditional aspect of pay-TV - the experience of mindlessly flipping channels and not finding anything compelling to watch (recall Bruce Springsteen wrote a whole song about this - back in 1992!). Or finding something modestly compelling, but then realizing I've already missed the first 15 minutes of the show so why bother to watch the rest (note there's a "start over" feature, but it seems only for Travel Channel, HGTV, Food, El Rey and Maker Studios channels).

As I pointed out in my original post on Sling TV, its focus on linear TV means the user has no DVR or VOD catalog to access and certainly no ability to binge-view anything or do any ad-skipping. Yet these are all now widely and joyfully adopted behaviors and expectations among the very millennial/cord-never generation Sling TV is targeting. Realistically, outside of watching live sports, how many in this cohort are going be satisfied with a linear-only viewing proposition? I'd argue not many.

For kids, Sling TV is also way out of synch. At a time when OTT is more appealing than ever for kids - and is decimating kids cable TV networks - Sling TV offers only linear streams. Imagine a kid who tries accessing Cartoon Network on Sling TV at 10am and sees the image for "Tom & Jerry" (which is on next, at 10:30am). He/she futilely taps the "Tom & Jerry" image, as he/she would for Netflix/Hulu/Amazon to start the show, but of course, nothing happens. A hissy fit ensues and the parent intervenes to solve the problem. But the parent quickly realizes Sling TV's on-demand shortcoming and thus writes off Sling TV as irrelevant for their kid's viewing. It's back to Netflix, Hulu or Amazon.

In fact, Sling's detrimental linear-only model for entertainment content really reinforces its primary value proposition - watching live sports on ESPN, ESPN2 (or other sports networks included in an additional $5 sports tier). If you don't want to pay for pay-TV and are a sports fan only interested in national sports networks (because regional sports networks with hometown sports aren't part of Sling TV), then there's a value proposition. But even for sports fans, the lack of DVR means you won't be able to time-shift if you're running a little late, or watch those amazing plays repeatedly. And keep in mind broadcast networks (the primary home of NFL games) aren't included.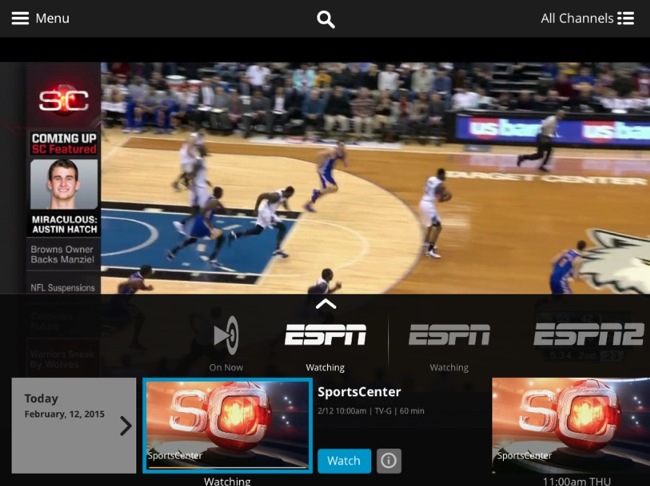 No question, Dish is trying to do something important with Sling TV, seeking to modernize pay-TV in a number of valuable ways - lower prices, easier sign-up, slimmer bundles, etc. But, by offering only an old school linear viewing model, when much of the world (and especially its millennial target audience) has firmly moved to on-demand access, success for Sling TV in its current form, is very hard to envision. Even the most basic market research seems like it would have revealed this inherent misalignment.

Perhaps this is just a first effort by Sling TV, and it will expand from linear to on-demand. Until then, OTT alternatives seem much more appealing, as do (admittedly expensive) pay-TV services with expanding VOD, TV Everywhere and DVR features.