Monday, July 9, 2007, 2:56 PM ET
|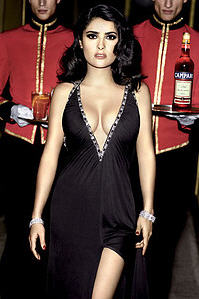 If you haven't headed over to http://www.campariusa.com/, it's well worth a trip to get a glimpse of how some savvy ad folks are leveraging broadband video.
Here's how this hit my radar: I was flipping the pages of the most recent New Yorker magazine. I noticed a full page picture of Salma, suggesting the reader visit http://www.campariusa.com/. Upon arrival and submitting my birth date, a 30 second video spot of Salma plays, with her sashaying down a corridor being proffered jewels and other enticements, until finally following an glittering tray of Campari on the rocks. After the video ends, there's all kinds of other stuff happening afterwards, with very heavy Flash emphasis.
What I found cool about all this is that an ad in a magazine got me to go online to see a video, which in turn prompted me to further engage with the site, learn about the company, get cocktail recipes, etc. A very multi-platform and multimedia approach, which is all part of the company's "Hotel Campari" campaign.
With TV networks still banning liquor ads, broadband presents a unique opportunity to reach target audiences above the legal age (of course, how that's verified is very sketchy to me....)
Nonetheless, with the sizzling Salma Hayek out front, the Campari campaign is sure to generate plenty of awareness and no doubt become a well-watched model for others looking to exploit broadband video campaigns in a more immersive way than pre-rolls allow.