Monday, May 3, 2021, 11:27 AM ET
|
The U.S. SVOD market has undergone significant fragmentation over the past two years as new services have launched, according to the Q1 2021 Growth Report from Antenna, an SVOD insights provider. In Q1 '19, Netflix and Hulu together accounted for over three-quarters (78%) of all SVOD subscriptions. But two years later, in Q1 '21, their combined share fell to just over half (51%), with Disney taking 17%, HBO Max 11%, Paramount+ 7%, Starz 6%, Showtime 4% and discovery+, Peacock and Apple TV+ all at 2%.

Antenna didn't report Amazon Prime Video numbers. Amazon said in its Q1 '21 earnings report that 175 million Prime members have streamed TV shows and movies in the past year, though it didn't provide any breakdown of U.S. share vs. rest of world.
Clearly the launch of Disney+ in November, 2019 was the biggest catalyst to fragmentation, as its growth has been meteoric, with over 100 million subscribers globally as of early March, with an estimated 40 million of those in the U.S. alone. But other high-profile launches in the past two years including HBO Max, Peacock, discovery+ and the rebrand of CBS All Access to Paramount+, have all impacted fragmentation as well.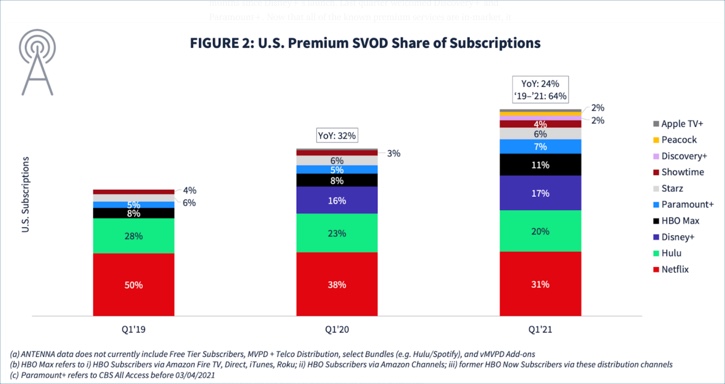 Antenna also noted that while SVOD category growth remained strong in Q1 '21, it has slowed in the past six months as the pandemic lockdown eases. In Q1 '21, growth was 24% and in Q4 '20 growth was 23%. However in Q3 '20 it was 36%, Q2 '20 34% and Q1 '20 32%.

Antenna also observed increasing churn rates for all services except Netflix. Excluding both Netflix and Hulu, the churn rate increased from 5.3% in Q1 '19 to 7% in Q1 '21. However, Hulu's churn rate more than doubled in the period from 2.4% to 4.9%, while Netflix stayed roughly flat, moving from 2.3% to 2.4%.

Between the pandemic, the launch of new SVOD services, cord-cutting and increased penetration of connected TVs, a lot has been happening in and around the SVOD industry in the past two years to say the least. Another factor that will impact SVOD adoption is the rising popularity and quality of AVOD services like YouTube, The Roku Channel, Tubi, Pluto and many others. These will inevitably cause some viewers to pare back their SVOD subscriptions.