Wednesday, July 28, 2010, 9:14 AM ET
|
PHILO, a startup social television platform, is announcing this morning that it has closed its first round of institutional financing from North Bridge Venture Partners and DFJ Gotham Ventures. The size of the round wasn't disclosed.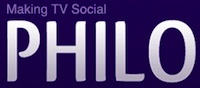 PHILO has also updated its iPhone and iPod Touch app and launched its web app. I talked to David Levy, CEO and co-founder yesterday to learn more.
Whereas the first wave of social media was about connecting friends, David sees PHILO fitting into the second wave, which is focused on connecting people to places, things, and in PHILO's case, TV programs. Foursquare, Gowalla and others have popularized the idea of using a mobile device or web application to "check-in" to places and events, so that friends and others can see what you're doing. Higher degrees of engagement such as commenting then lead to various types of rewards, which confer status among the community of users.
PHILO is following this model, but applying it specifically to TV shows. In David's view, sharing what you're watching with friends and then commenting on the programs nothing new; traditionally it has been done at the water cooler at work or by watching together in small groups. What PHILO does is virtualize the experience online and in real-time. Users tap into their existing social networks at Facebook, Twitter, etc and can also make new contacts on PHILO itself. The social and mobile approach is similar to features Clicker announced last week except that Clicker also adds a robust interactive guide on the front end. Other similar apps Miso and GetGlue plus Comcast also recently launched Tunerfish.
PHILO is still pre-revenue and David wouldn't disclose any details on what their business model is or when they'll roll it out. But with a sizable audience, no doubt ads will come, primarily for other TV shows. If the ads are personalized to align with what you're already watching and engaged with, environments like PHILO would be really valuable. And getting a show into the viral promotional stream would be a home run for a new show hungry for exposure.
It's hard to handicap the winners in this space, but in general I like the concept here a lot. Facebook, Twitter and others have created a huge and growing culture of people who are both connected and actively engaged with one another. Watching TV is an immensely popular activity and people love to discuss their favorite shows. Giving them an online, real-time mechanism for doing so and getting rewarded for it is a natural.
What do you think? Post a comment now (no sign-in required).