Tuesday, January 15, 2008, 10:04 AM ET
|
Innovation in the video search space just keeps on coming. The latest is from a company named Nexidia, which already operates in other verticals and is now targeting the media space as well. I caught up with Drew Lanham, SVP of Media for an update on their approach and how it differs from others in the market today.
Nexidia creates a searchable phonetic representation of the audio track, which it calls a "Phonetic Audio Track" or PAT file. These PAT files are then indexed, and queries are matched against them. The company believes the advantages of phonetics over traditional speech-to-text and metadata-based approaches are better accuracy (particularly against unrecognized phrases), faster indexing and lower-cost scaling. For example, Drew said that an hour of video can be indexed automatically by Nexidia in 15 seconds, while he believes that speech-to-text would be a 1:1 relationship, so an hour to index an hour of video.
Obviously there are real speed-to-market opportunities for content providers, so this would be a solid competitive advantage. Nexidia owns its own phonetics technology, which gives it flexibility in further developing it to meet customers' specific needs. Drew said metadata is also used to augment the phonetics-based approach.
Nexidia search results are the full long-form segment containing the search phrase, not just clips. Hash marks denote where the search term is spoken. This approach means that content providers no longer have to worry about creating and managing clips, thereby reducing their costs. It also means users get the full context of the program, if desired.
The company already has substantial operations in homeland security, call centers, legal and enterprise search, and has recently begun targeting the media vertical. One live example can be found at http://www.11alive.com/, which is the web site of WXIA in Atlanta. I played around with it a bit and found the results to be impressive, though I thought the interface needed some improvements. Drew showed me the next generation interface, which is stronger and offers new features like clipping, exploring tag-related content and syndication.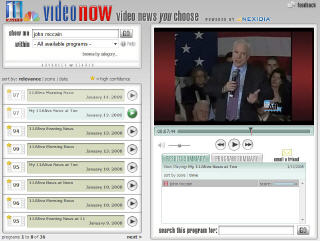 Drew said the company is getting a lot of traction in the media editing space (Avid, etc.), and is re-starting discussion with the top 20-30 media properties. It envisions being an "ingredient brand" and not having a consumer-facing portal. Nexidia again shows that content providers are going to be able mine lots of new value from their video archives. These troves of video are also going to yield unprecedented new targeted advertising opportunities.