Amid much anticipation, Comcast launched its "Fancast Xfinity TV" (my shorthand will be "FXTV") service yesterday. FXTV is Comcast's TV Everywhere offering and it will initially be available only to the company's approximately 14 million "dual play" (digital cable + broadband Internet access) subscribers. Comcast is keeping a "beta" label on FXTV for now, to give it some time to work out the kinks. As a Comcast triple-play customer, I have access to FXTV and I played around with it yesterday and last night. While there's plenty of room for improvement, overall FXTV is off to a respectable start.
When dual play customers now visit Fancast they are immediately notified through a prominent pop-up that there's "Great News for Comcast Customers" about online access to over a 1,000 new shows and movies. "Get started" prompts the user to enter their Comcast.net email address and password, then a 17.5MB download begins which includes the Move Networks player and an Adobe Air application. After naming your computer (you're allowed up to 3 devices to access FXTV), the site reloads with the new FXTV Beta branding. All of that worked fine for me.
A prominent window at the top of the page promotes 4 current TV shows, but FXTV misses a big opportunity to immediately demonstrate its value by oddly showcasing just 1 program (TNT's "Men of a Certain Age,") that's not sourced from Hulu. Savvy users will know the rest are already freely available there. Why not promote 4 programs that are only available to FXTV users? And why not include messaging like "Exclusively for FXTV Users!" to remind users of the payoff for having just gone through a download process?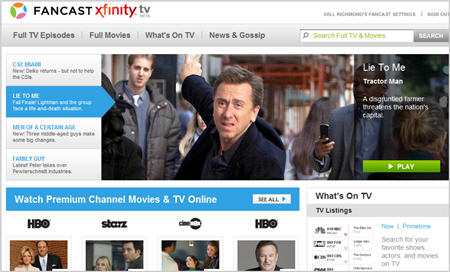 On the positive side, below this window, FXTV promotes programming from premium channels HBO, Starz and Cinemax. As a non-subscriber to Cinemax, when I clicked on "Juno," which had a little key icon, FXTV's authentication process kicked in, prompting a message to subscribe to Cinemax to watch. However, when I clicked "Learn more" my popup blocker interceded which meant I needed to disable it and then reload the page. The Cinemax promotional page that loads is generic from the Comcast.com web site, featuring a graphic of "Gran Torino" and promotions for 3 other movies. Comcast has a golden upsell opportunity when FXTV users click on premium content. It would no doubt improve its conversion ratio if the landing page were customized to load a graphic of the original movie or show selected at FXTV, well merchandised with trailers, clips and other information. A special offer/reward for FXTV users would also help.
Back on the FXTV site, below the premium channel promotions is an area for Full Episodes, categorized by "Celeb News," "The Hot List," "Dramas," etc. Once again, many of the thumbnails link to content that is freely available online and to all other Fancast users. Once again, I'm surprised that Comcast isn't doing more to promote programs that are only available to FXTV users, making it more explicit what's special about FXTV.
I clicked and watched parts of a number of shows and in general my experience was positive. I've read other reviews describing buffering delays, but I didn't experience any issues, or at least anything different than I typically do when starting videos at other sites. One thing Comcast disclosed on the press call yesterday was that FXTV would be available to dual play subscribers outside their homes. Recall that in the 5,000 person trial, users could only access the service from within their homes, so this is a major step forward. I haven't yet tested FXTV remotely, but will do so while in Florida next week.
The biggest challenge FXTV faces is content availability, particularly from the ad-supported cable networks. For example of last week's top 10 rated cable shows, only TNT's "The Closer" and "Men of a Certain Age" are available on FXTV. Among the top 10, there are no sports (football or WWE) or kids shows like "Sponge Bob" (Nick) or "Phineas and Ferb" (Disney) available. Even for #10 show "Keeping up With the Kardashians" the most recent episodes are from Season 2, back in May 2008 - and this is a show that's on E! Entertainment, a channel that Comcast itself owns! There are no episodes offered of my favorite cable show, AMC's "Mad Men."
The content selection on the premium channels HBO, Starz and Cinemax (note Showtime is not yet available on FXTV) is better, but not eye-popping. For example, the only episodes of HBO's "Entourage" that are available are from Season 2 in 2005, despite the fact that Comcast's CEO Brian Roberts specifically demonstrated and highlighted the idea that all episodes of Entourage would be available when he showed the service at the Web 2.0 conference less than 2 months ago. For some reason HBO must have pulled the rights to Entourage in this time.
A lot of the questions on the press call Comcast conducted yesterday focused on content availability and it's clear that obtaining the rights to distribute the full slate of cable programs online is devilishly complex. To be sure, Comcast has made progress, saying it has 27 networks are supplying programming, totaling 12K titles. There's no distributor in a better position to make online distribution happen than Comcast, yet as I wrote last week about Nielsen not yet being able to collect and then synthesize online viewership, Comcast (and other TV Everywhere providers) are subject to forces beyond their control.
Yet another complicating factor is how advertising in FXTV will work. Comcast said that for now, while "nobody really knows what works best," each network will be permitted to experiment with ad loads. It's not clear how long this will go on, nor what role Comcast will play to guide networks to a certain load. In the meantime though, the downside is that the user experience is inconsistent from one network to another. For an offering that's free to subscribers that's not a big drawback, but the lack of consistency does chip away at least a little bit from the overall experience.
Taken together, Comcast deserves credit for getting FXTV out the door just 6 months since announcing it this summer, which is light speed in cable TV terms. There are lots of ways it can and will be improved upon. Gaining credibility with content providers, so that FXTV can beef up its library is priority #1. As I've been saying for a while now, conceptually FXTV is right on all fronts - it preserves the paid consumer model for content providers, offers users enhanced value and helps Comcast and other providers defend against cord-cutting. Hopefully Comcast and other providers will sufficiently invest in these services to let them reach their full potential.
What do you think? Post a comment now.