Tuesday, February 15, 2011, 9:17 AM ET
|
CBSSports.com and MLB.com announced an exclusive multi-year partnership yesterday that illustrates well how video clips generated in near real-time can add significant value to online experiences. Under the deal, MLB will supply CBSSports.com's Fantasy Baseball Commissioner users with in-game video highlights on live scoring pages for every single player, as the games progress. In addition, MLB will provide a highlights package for each player so users can get a look at him before in action before drafting or trading him. Lastly, MLB will provide live audio feeds of all 2,430 regular season games. All of this is being provided at no additional charge to Commissioner users.
The addition of near real-time video highlights to the live scoring pages is the aspect of the deal that really caught my attention because it requires MLB.com to quickly and accurately create descriptive metadata for each play. The MLB.com example shows how sophisticated metadata creation/management has become, moving it from on-demand video to live video. I don't know which metadata technology MLB.com is using (or if they've created their own, as MLB.com tends to do) but their ability to generate clips, attach metadata and publish them in near real-time is quite impressive (with the caveat being that I haven't seen the video updates feature actually work yet).
Coincidentally, just yesterday, in "RAMP Exceeds 1 Billion Time-Coded Tags for Video/Audio," I discussed how metadata that allows video scenes to be discovered and to be integrated with other relevant content is becoming essential. One of the points that I made was that relevant video can really enrich the user experience. That's certainly true with the new MLB.com/CBSSports.com partnership. Though I'm not a fantasy player, I can easily imagine that for Commissioner users, the product will feel like a near real-time multimedia dashboard to follow all of their players and teams. Being able to monitor video highlights as the games progress means that users will gain faster, more accurate insights beyond what can be gleaned from statistics alone.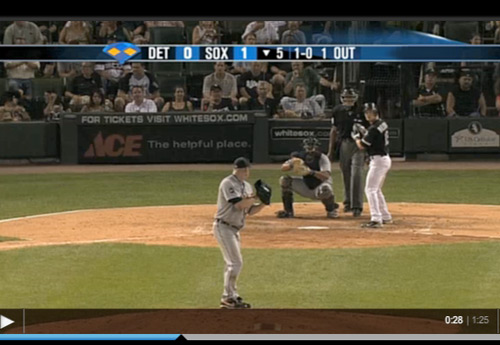 The video highlights are going to be a key competitive differentiator for the Commissioner product. The fact that this is an exclusive deal with MLB means it's going to be hard for any other fantasy baseball product to offer a similar video-rich experience. MLB is also going to promote the product as the "Official Fantasy Baseball Commissioner Game of MLB.com."
For content providers, the key takeaway here is that metadata creation/management can unlock significant new value in video, whether on-demand or live as with MLB.com. That value directly translates into product improvements experienced by users. Last but not least, these enhancements lead to improved monetization, whether through higher subscriptions/retention, as with a product like Commissioner or through higher-ROI advertising. For example, I don't know if ads are included in Commissioner, but if they are, the ability to marry ads for products that individual players endorse, with specific videos of the player in action would be a winner.
All of this is yet another example of how online video distribution is creating new opportunities for content providers.
What do you think? Post a comment now (no sign-in required).