Looking for an industry that is almost entirely asleep to broadband video's upside? Look at the major publishers of fiction and nonfiction books.

I was intrigued about what publishers were doing with broadband when I recently noticed a full page ad for the current #1 fiction book, "The Story of Edgar Sawtelle." Promoted at the bottom of the page was a "live webcast event" with the book's author at www.oprah.com/bookclub.

I thought that seemed like a pretty smart thing to do, and it must be relatively common. However, when I researched the authors' web sites and the respective publishers' web sites for the top 10 hardcover fiction and top 10 hardcover nonfiction books, I was surprised to see how little broadband video is currently being used.

Most of these sites offered no video at all and of those that did, only three offered any meaningful amount. Those were the web sites of Ted Bell, author of the #8 fiction book, "Tsar," Thomas Friedman, author of the #1 nonfiction book, "Hot, Flat, and Crowded" and Friedman's publisher Farrar, Strauss and Giroux, all of which offered video galleries of these authors being interviewed mainly on TV shows. That these two authors alone should have strong broadband presences is not that surprising; Bell is a former top advertising executive and Friedman is very plugged into the technology scene.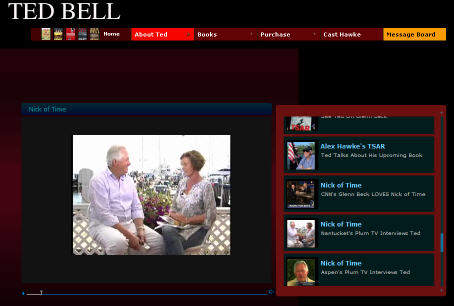 To me it's bizarre that publishers aren't embracing broadband, and it seems like a huge missed opportunity. Book publishing is a brutally competitive industry, where big money is spent promoting primarily well-known authors' latest works (note virtually all the authors on the fiction top 10 list have successful track records). This means there is a built-in audience likely interested in high-quality content related to the author's new work.
Video-based promotion seems like a natural for book publishers. Authors are sent on book tours, where they do local readings and signings. These would provide great fodder for video. They also do a lot of TV interviews, particularly on cable, which could be repurposed. Then there's the infinite number of book groups who meet to dissect these books - how about gathering and posting video of some of their discussions?
There's also the "behind-the-scenes" potential. This one is particularly intriguing as I had a personal experience with it recently. After watching HBO's "John Adams" miniseries on DVD, I also watched the special feature behind-the-scenes profile of author David McCullough. It was every bit as interesting as the program itself.
I think passionate readers of certain authors would love to have an intimate look into how these books come to be. How is the research is done? What moved the author to choose his/her subject? What's the setting look like where they actually type? What are the author's key challenges? And so on. This "meta-story" around the book itself is supplemental content that can be used to promote the book and make it feel more like an event (or a continuation of events if it's a repeat author).
As I've explained in the past, video is becoming table stakes for all product promotion. Books are no different. The key is publishers thinking about how video can new value for readers. Book publishing is one of the most traditional businesses around, and when it comes to its limited pursuit of broadband video, the industry seems to be living up to its reputation. As a result they're missing out on big opportunities to further engage their readers and drive sales.
What do you think? Post a comment now.