Wednesday, November 14, 2012, 9:11 AM ET
|
LiveU, which pioneered live video streaming over cellular connections, is on a huge roll, now serving 500+ broadcasters in 70 countries worldwide, according to COO and co-founder Avi Cohen, whom I spoke to yesterday. Given that growth, it's no surprise that the company raised another $27 million earlier this week, a noteworthy round given current market conditions.
Avi said that for the summer London Olympics alone, over 100 LiveU units were deployed by major broadcasters, who transmitted 3,000+ hours and 1.5 TB of data. LiveU also proved itself during the recent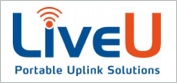 Hurricane Sandy, as Fox, NBC and others used 100+ LiveU units to broadcast on-location reports during the storm and its aftermath. LiveU set up a "war room" in NJ to serve customers so despite the hit that cellular transmission took from the storm, by using diverse carriers, its customers were able to continuously broadcast. Over 300 LiveU units were also used on Election Day last week.

Given the proliferation of consumer viewing devices, there's more pressure than ever on news organizations to cover breaking stories with live video transmissions. But with news gathering budgets tightening, doing so affordably is crucial.

In this context, LiveU is continuing to capitalize on the flexibility and reduced cost that its backpack and handheld broadcast solutions offer vs. expensive traditional satellite trucks. LiveU bonds up to 14 cellular modems (3G and 4G) from multiple carriers and adapts the encoding rate depending on network conditions. Having a few LiveU units on hand allows news stations to send reporters into the field quickly and then move them around more nimbly than when a satellite truck and its physical limitations are involved.

Avi explained that LiveU has been building out its product portfolio this year, with laptop and smartphone solutions, as well as introducing LiveU Total, a unified management console so control rooms can handle multiple LiveU feeds from various locations. Beyond news, Avi also said the company will put more emphasis on new verticals like sports, entertainment and education.