Friday, December 12, 2008, 8:47 AM ET
|
comScore's latest video traffic rankings came out earlier this week, and it was hard to miss Hulu's big growth in 2008. As the chart below show, the site, which only launched officially in March landed in the #6 spot with 235 million video streams in October, up from 119 million in July, 88 million in May and not in comScore's top 10 in April.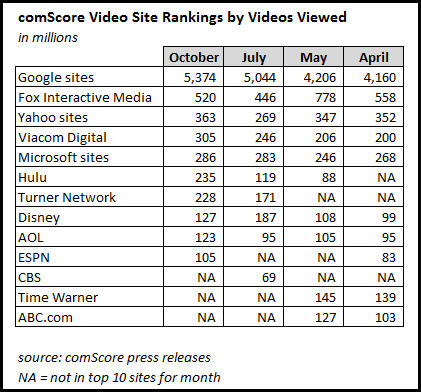 While Hulu's latest stats benefited from the SNL political skits, it's worth noting that in October Hulu delivered more streams than Viacom, Disney, AOL, ESPN, Time Warner and ABC.com as recently as April (when Hulu wasn't yet in the top 10). As Todd Spangler points out, Hulu's success is also a very significant syndication data point: in October it generated "only" 5.3 million uniques on its own site with the remainder of its 24 million uniques coming from partners.
By anyone's standards Hulu's off to a pretty amazing start. Hulu's pre-launch naysayers have been proven dead wrong. A year ago I gave Hulu's beta a solid B+; it has now become one of the best out there. In '09 its key challenge is to maximize the revenue from all that traffic.
What do you think? Post a comment now.