In an interview with me at yesterday's VideoSchmooze, HBO co-president Eric Kessler said that HBO GO has delivered 98 million video streams to date. HBO GO is offered at no extra cost to existing HBO subscribers as long as their pay-TV provider and HBO have agreed to make the service available. Eric also noted that HBO intends for HBO GO to remain the sole streaming outlet for its programs as it believes this type of exclusivity is a key differentiator vs. aggregators like Netflix, Amazon and others, most of whose content is non-exclusive. Clearly this is what HBO GO users want: over 70% of viewership has been for HBO's original programs.
In explaining the strategic thinking behind HBO GO, Eric said that the most critical decision HBO executives made was to include virtually all seasons and episodes of HBO's award-winning programs rather than just certain seasons or episodes. This is what subscribers said they valued, and it also represented a big step forward from what HBO has offered on VOD. The risk in the decision was that home video is a big business for HBO, and so by having everything in HBO GO, there would be a disincentive to purchase full-season DVDs. However, after quantifying the potential magnitude of the impact, and recognizing that HBO's core revenue engine remains its linear subscriptions, HBO decided to go forward.
Striking the right balance between user experience vs. protecting existing revenue streams is one of the thorniest problems content providers face as they look to capitalize on online video delivery (another great example is Hulu's original decision to limit the ad load in its streams vs. traditional on-air delivery, a decision which drove huge traffic and loyalty, but challenged its parent broadcasters' own P&Ls). However, as an HBO GO user who has sampled several programs from their pilot episodes, the decision to include everything is a huge win. It essentially eliminates the frustrating "Swiss cheese" challenge of having some programs accessible while others are not. This is a common problem online today that I'll discuss more in a post next week.
Despite all of HBO GO's appeal, the lingering issue is that it's only available to HBO subscribers through their pay-TV providers, and again, only if those pay-TV providers have reached agreements with HBO, which many currently have not. As a result, HBO GO isn't used today by the 80 million or so non-HBO homes in the U.S., a huge potential market. While Eric argues that these homes could gain access to HBO GO if they simply subscribed to HBO, the fact remains that they have chosen not to, for a variety of reasons (e.g. budget and time constraints, etc.). As basic cable rates have risen, an ever-higher barrier has been placed between HBO and its addressable market.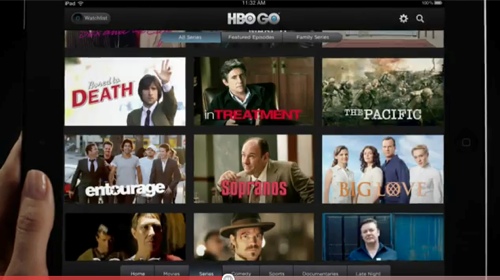 All of that raises the inevitable opportunity of HBO simply making HBO GO available directly to consumers. But because it believes all pay-TV subscribers can currently add HBO if they chose to, HBO sees the direct-to-consumer opportunity as limited to the small segment of broadband-only homes, including cord-cutters, cord-nevers, etc. However, I think a broader question to ask is how many existing pay-TV subscribers - particularly those that entertainment-oriented and not sports fans - might drop their $60 or $70 basic service if given the chance to directly subscribe to HBO for $20 or $25 per month, including access to HBO GO? Of course, such a move by HBO would be hugely disruptive and directly instigate cord-cutting which it is loathe to do given how important the pay-TV partnerships are for promotion and customer support as Eric reinforced.
With HBO GO, HBO is building valuable direct relationships with its audience, gaining first-hand insight to viewership patterns and deepening its involvement with new connected and mobile devices. All of that creates new options should HBO decide to become more aggressive somewhere down the road with a direct-to-consumer play. For now however, HBO seems very committed to its traditional partners.
(Note: I'll be posting a video of the full interview as soon as it's available. Also see further coverage of the interview at Multichannel News and PaidContent).