Friday, July 18, 2008, 8:39 AM ET
|
Ending the week on a lighter note, I want to point out two videos sure to make you chuckle. If you're thinking they're from late-night comedians or new online comedy networks or even YouTube's user-generated video trove, think again. They're from about the most unlikely place you can imagine: the life sciences industry.
That's right, two life sciences companies, Bio-Rad Laboratories and Eppendorf AG are demonstrating that the so-called "democratization of video" has truly reached into some unexpected places.
The funnier of the two is Bio-Rad's "Scientists for Better PCR," a hilarious and campy imitation of "We Are the World" featuring a collection of singer lookalikes (I spotted Bob Dylan, Bette Midler, Stevie Wonder, Joe Cocker, Quincy Jones and others...see who you can identify). Also, it's worth clicking on the "Download the Lyrics" link to see the actual words they're singing - it makes the experience even more amusing.
In case you were interested, which I'm guessing most of you are not, PCR stands for "polymerase chain reaction" which is a method to find the genes/DNA of a living organism. The song brings the product to life in a way that no other marketing collateral ever could have done. The PCR song has been out for a while, but hadn't hit my radar. Hat tip to Anystream's Geoff Allen for bringing it to my attention.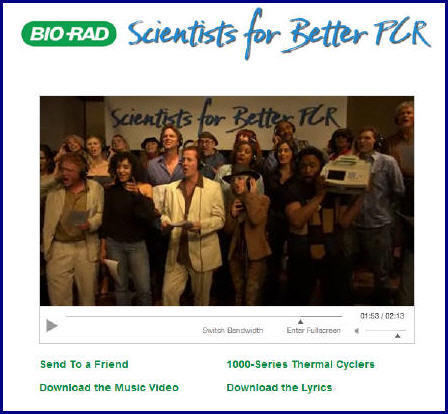 Meanwhile, also check out Eppendorf's hilarious boy band sendup to promote its epMotion Automated pipetting system (don't ask me what this product does). Again take a look at the lyrics to add to the humor.
This week I've spent a fair amount of time highlighting how brands and others are using broadband video in creative and clever ways to bring their messages to life. When I see all of these examples, I continue to be impressed with just how versatile the broadband medium is.