Comcast's Fancast broadband portal has received a much-needed facelift, adding new features and content to compete with other well-funded players in this space. (Note: before you conclude that VideoNuze has become obsessed with covering Comcast - since just yesterday I dug into its ISP policies - rest assured, tomorrow I'll move on!)
Fancast is by far the most ambitious portal effort among the major cable operators. In fact, while other operators' portals target just their own ISP customers, Comcast's goal is to have Fancast compete for ANY broadband user's attention. That means that Fancast goes head to head with ad-based broadband aggregators like Hulu, Veoh, Joost, Metacafe, etc. And now with Fancast's new video download store, it also butts up against folks like iTunes, Amazon Unbox, Xbox LIVE Marketplace, etc. Then of course there's YouTube, the 800 pound gorilla of the broadband video world, which all aggregators, compete with on one level or another.
With such a formidable array of competitors, Fancast has a high bar to succeed. Still, I've maintained for a while that Comcast, with its 14 million+ broadband subscribers and 22 million+ cable subscribers is extremely well-positioned and needed to play aggressively in broadband video distribution. To date though I've been underwhelmed by Fancast, which seemed to have a solid vision, but sub-par execution. (For more on this, see 2 previous posts, here and here, comparing Hulu and Fancast.)
Now, with Fancast's facelift, the portal is getting some mojo. Fancast's director of communications Kate Noel recently took me on a spin through what's new. First up is a new home page (see below) that nicely showcases premium content that is curated by an in-house editorial team. Clicking on a selection reveals an oversize video player (which can be further enlarged to full screen). New features include embedding and sharing, along with a handy tool to be notified when a new episode is offered.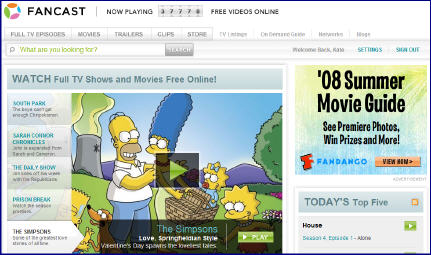 There's also a noticeable improvement in content selection, which Kate says now includes over 37,500 video assets; 320+ individual TV programs, 250+ movies and countless trailers and clips from over 100 content partners. Fancast is also putting a heavy emphasis on editorial differentiation, and has created sections such as "Today's Top 5," "Daily Buzz (blog)" and "Discover All Your Favorites." to help orient users on the site and provide editorial perspective.
This all plays to what Kate says is Fancast's larger mission to not just "offer TV online," but rather to "use Fancast as a cross-platform hub" that draws value from and drives value to Comcast's other offerings - digital cable, VOD and DVR service in particular.
With Comcast's huge cable subscriber base, that sounds right in theory. But how exactly Fancast fully executes on that potential still feels squishy. For example, doing a search for a current episode of "Mad Men" reveals a nice option to watch on VOD (since it's not currently on Fancast - that's a whole other story...), but is this really a game-changer? A much more significant lever at Comcast's disposal would be getting Fancast onto their digital cable boxes, so all that great Fancast content could be consumed in the living room (maybe along with YouTube, Funnyordie, NYTimes.com and other video?). The nagging question remains: will that day ever come?
One last thing that struck me about Fancast was its seemingly murky relationship with Hulu, which supplies many of Fancast's movies, and some of its TV programs. Is Hulu a Fancast competitor, a partner, both? Kate says Hulu is not competitive. Yet at the end of the day, aren't both Hulu and Fancast competing for the same ad dollars, and eyeballs? Here's another question: with Comcast's vast programming arm, why can't it procure movies directly from studios, instead of cutting Hulu in on the action? I must say, it's all very confusing.
Still, to the average user, the new Fancast is an improvement, and there is more progress yet to come.
What do you think? Post a comment now!