Disney/ABC Television Group's official announcement this morning of Stage 9 Digital Media, an experimental new media content studio, is another key milestone in the fast-moving broadband video industry.
I got a short briefing about Stage 9 late yesterday from Disney/ABC because it asked me to provide some analyst context to the LA Times' Dawn Chmielewski, who's done a great piece here. Stage 9 is Disney/ABC's key initiative to reach the coveted 18-34 audience in synch with this audience's unique media consumption patterns. Programming will be short, funny, well-produced, episodic, and widely distributed through popular broadband sites, social networks, mobile and download services.
I interpret Disney/ABC's move, when coupled with recent initiatives by other big media companies into original broadband video production, as further evidence of two key trends: that broadband video has come of age as a key priority for the largest media companies and that it is impossible to appeal to today's younger audiences simply by hewing to the traditional rules of the media game.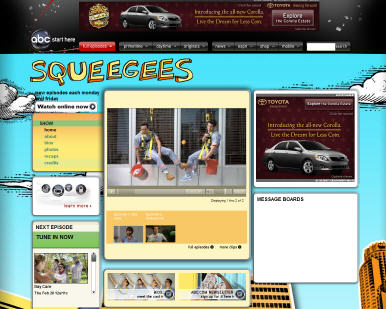 Also of significance is that Disney/ABC announced that "Squeegees," which is Stage 9's first release, will be co-exclusively premiered on ABC.com and YouTube starting today and sponsored by Toyota. Yes, you read that right. YouTube! The scruffy user-generated phenom that big media was threatening to sue out existence not so long ago, and which of course is now owned by Google, big media's most anxiety-inducing "frenemy," has been elevated to launch partner status for Stage 9's first program.
The "Squeegees" co-premiere is quite an accomplishment for YouTube. It shows that YouTube's methodical efforts to gain legitimacy (and a business model!) by establishing partner channels with media companies are beginning to pay off. David Eun, Google's VP of Content Partnerships has repeatedly explained this game plan to me, and others over the last year. The Stage 9 launch partnership should certainly be regarded as a major win for the young company. It is also another data point I'd use to support my contention that in the broadband age, traditional conceptions about copyright monetization need to be radically re-thought (Viacom, are you listening?).
I'm enthusiastic about the Stage 9 initiative, as I believe it holds lots of potential for Disney/ABC. It gives the company inroads to the elusive 18-34 set, offers the prospect of innumerable and invaluable insights about how to effectively program in the broadband age, provides a whole new internal breeding ground for developing new on-air programming (a possible double win, as this might help fix the broken and expensive traditional pilot process, though my enthusiasm on this point is tempered by news today of Quarterlife's NBC ratings fiasco) and creates new and exciting multi-platform sponsorship opportunities.
In short, the strategy is sound and the upside significant. Now for the hard part: Stage 9 needs to execute and actually deliver on all this potential.
What do you think? Post a comment now!