Monday, June 30, 2008, 9:55 AM ET
|
A couple of weeks ago, Delve Networks, a company formerly known as Plugg'd, which had focused on podcasting, announced that it was switching gears to jump into the video content management/platform space. I have long thought that this area was pretty crowded, so I was interested to learn from Delve's CEO/founder Alex Castro, what he believes makes Delve different and how it can win business vs. more established players.
Just to give a sense of who's already playing in this market, here's a quick overview (apologies to anyone I've left out...):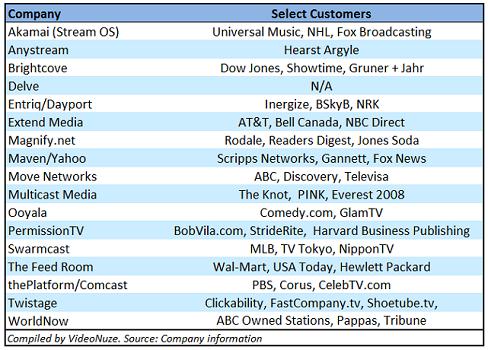 Alex described two principal ways that Delve is going to try to distinguish itself. The first is by enabling its customers to provide an improved user experience. The key to this is Delve's proprietary technology that allows users to see the most relevant part of a video stream. Delve uses both speech recognition and semantic approaches to create a "heat map" (see demo) above the video controls, indicating the most relevant segments to viewers. Of course speech recognition and accompanying techniques are used by Digitalsmiths, EveryZing, ScanScout and others to enhance discovery. I asked Alex about these and he contended that nobody has yet pulled these technologies into a comprehensive product.
Alex believes Delve's other differentiator is its user interface and workflow tools for content producers. Alex pointed to market research that Delve commissioned, which he said showed dissatisfaction with competitors' tools. He thought this was surprising given how long other players have been in the market and how much money has been invested to date. He sees the subpar results as creating opportunity for Delve.
In addition to the producer side, he thinks the consumer side UI of video is also an area in need of improvement. In addition to improved discovery, he cited the so-called "video ghettos" created by dedicated video player/channel environments. Note this an area Brightcove is looking to re-cast as well through its recent Brightcove3 beta release. (Alex is pretty blunt in his assessment of Brightcove; some thoughts are here on his blog)
All of this leads Alex and the Delve team to think that it's still very early in the broadband video industry's evolution with much opportunity still out there. Yet I suggested that most major media companies have long since done their due diligence and begun standardizing on certain platforms. Somewhat agreeing, Alex maintained that Delve has a full pipeline of remaining major media companies who have been mostly experimenting to date, plus a large assortment of non-traditional video publishers and smaller players all taking meetings with Delve.
Of course Alex is right that it is still early in the grand scheme of things and few would consider their current platform decisions fully locked in. But the question for Delve remains whether it can truly capitalize on the above differentiators while also being competitive on the full range of other features incumbents now offer. It will be interesting to watch what happens, especially with Alex's colorful commentary along the way.
What do you think? Post a comment now!
(Note: Swarmcast and Magnify.net were inadvertently omitted from the original chart above.)