Broadband-only producers got a boost yesterday as blip.tv, which provides technology, ad sales and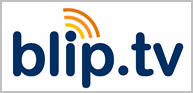 distribution for thousands of online shows, announced a variety of new deals as well as product improvements. The deals offer blip's producers new distribution, new monetization and new access to TVs. In order:
Distribution: blip's new deal with YouTube means that producers using blip can deliver their episodes directly to their YouTube accounts, eliminating the two step process. With YouTube's massive traffic, getting in front of this audience is critical to any independent producer. Since my first conversation with blip's co-founder Mike Hudack several years ago, the company's mantra has been widespread syndication. Blip already distributed its producers' shows to iTunes, AOL Video, MSN Video, Facebook, Twitter, and others. Vimeo is another new distribution partner announced yesterday.
Monetization: A new integration with FreeWheel means that ads blip sells can follow the programs it distributes wherever they may be viewed. I've written about FreeWheel in the past, which offers essential monetization capability for the Syndicated Video Economy. With the blip deal, FreeWheel delivered ads can be inserted on YouTube. This follows news earlier this week that YouTube and FreeWheel had struck an agreement which allows content providers that use FreeWheel and distribute their video on YouTube can have FreeWheel insert their ads on YouTube (slowly but surely YouTube is opening itself up to 3rd parties).
Access to TVs - Last but not least is blip's integration with the Roku player which will help bring blip's shows directly to TVs (adding to deals blip already had with TiVo, Sony Bravia, Verizon FiOS, Boxee and Apple TV). While Roku's footprint is still modest, it is positioned for major growth given current deals with Netflix and Amazon, and others no doubt pending. At $100, Roku is an inexpensive and easy-to-operate convergence device that is a great option for consumers trying to gain broadband access on their TVs. Gaining parity access to TV audiences for its broadband producers is a key value proposition for blip.
In addition to the above, blip also redesigned its dashboard and work flow, making it easier for producers to manage their shows along with their distribution and monetization. An additional deal with TubeMogul announced yesterday allows second by second viewer tracking, providing more insight on engagement.
Taken together the new deals help blip further realize its vision of being a "next generation TV network" and provide much-needed services to broadband-only producers. This group has taken a hit this year, given the tough ad sales and funding environments, so they need every advantage they can get.
What do you think? Post a comment now.