Thursday, June 16, 2011, 11:25 AM ET
|
At the Cable Show in Chicago today, Comcast's CEO Brian Roberts showcased the company's ability to deliver 1 gigabit per second throughput by downloading a full season of 23 episodes of 30 Rock in just 1 minute, 39 seconds. Putting the 1 Gbps throughput in context, Roberts noted that back in 1996, delivering 1-2 megabits per second was state of the art, and that as recently as 2007, 100 megabits per second was the limit.
Increasing speed has been a core value proposition of cable's broadband ISP efforts for years. It has taken on even greater importance recently as consumption of high-quality video has soared. An emerging theme in the pay-TV industry is delivering not just on-demand streams, but full lineups of live TV over IP as well. All of this will drive ever-higher consumer needs for bandwidth.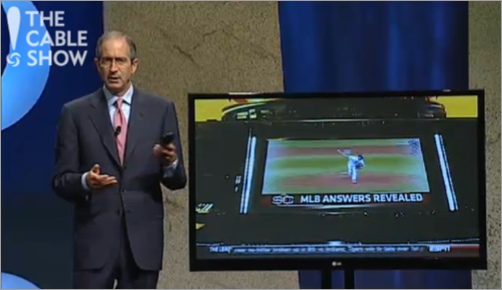 Earlier in his presentation, Roberts also demo'd the next version of Comcast's program guide and applications, which he emphasized are delivered entirely from the cloud. The more web-like experience allows Comcast to be far more flexible in how it creates new services as well as their richness. Roberts showcased new features like improved VOD navigation, sharing on Facebook (including a new "Friend Trends" recommendations concept), new apps like traffic and weather and enhanced metadata that's consistent across platforms. Roberts said the new guide and services are already available in Augusta, GA, but did not offer any specifics about their broader rollout.