Wednesday, April 2, 2008, 10:07 AM ET
|
Three exciting examples of how marketers are using broadband to drive their branding objectives recently hit my radar: Cartier, Campari and CIT.
Though the campaigns differ widely, they all strive to convey brand attributes by creatively using video. Interestingly, they also each use traditional print publications to drive awareness of their broadband efforts. This illustrates how important multi-platform marketing has become.
Cartier, the luxury products company, recently began re-promoting its mini-site supporting its "Love" line of jewelry. This campaign originally kicked off in '07 but I found it via a screen takeover ad at NYTimes.com. The mini-site includes 12 short videos from director Olivier Dahan (La Vie En Rose). Each video depicts a couple in various states of their relationship. Shot in black and white with low lighting and mood music, each evokes a luxurious sensibility that is consistent with the Cartier brand and "Love" line. Though purely entertaining, they create an engaging experience that would be impossible to replicate in traditional 30 second TV ads.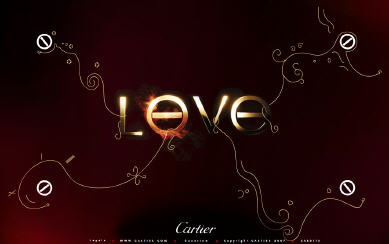 Meanwhile, Campari, the Italian liquor, is re-promoting its "Hotel Campari" min-site featuring Salma Hayek. I previously wrote about this last July, and once again found out about the site through an ad in The New

Yorker magazine. Campari uses a more overtly seductive approach than Cartier, featuring Ms. Hayek gliding down a hallway ignoring all kinds of enticements until settling on a Campari on the rocks. The video nicely supports Campari's exclusive positioning, introducing the brand to audiences via the well-known, yet still-exotic actress. With liquor ads barred from TV, Campari is making great use of the unregulated broadband medium.
Lastly, there's CIT, the financial services giant, which has updated its "CIT: Behind The Business" video interview series with leading business executives. This first caught my eye last November, and the current interview with Jon Luther, Chairman and CEO of Dunkin' Brands is promoted via a 4-page insert also in the latest New Yorker edition. CIT

differentiates itself by promoting how it brings "knowledge, expertise and creativity" to its client relationships. The interview series supports that positioning perfectly by eliciting insights in a low-key, yet engaging manner. Though clearly not as eye-catching as Cartier's and Campari's videos, CIT's videos and serialized nature serve its brand well.
These three campaigns show how broadband video continues to be used by savvy brands to better engage their target audiences. They also demonstrate how entertainment programming and brand marketing continue to converge. I expect more of this to come.