Brand Performance, a large player in the market for licensed character products for kids, is announcing Thwoop.com today, using broadband to invert the traditional model for content and commerce. I got a briefing from Ty Simpson, the company's CEO.
First a little background. Whenever you walk into a store like Toys-R-Us, you'll see rows and rows of products from hit kids programs like Ben10, Cars, Hannah Montana, etc. Licensing the characters and images from these shows to product manufacturers is a key source of revenue for program creators. If you have young kids as I do, you can attest to their popularity.
As Ty explains it, the industry is traditionally very hit driven. That means there is only a relatively small amount of room on TV for all of the character-driven programs that are produced. Similarly, big-box retailers allocate their finite shelf space to only the hottest properties. Ty recognized this latter scarcity several years ago and set up Tystoybox.com to focus exclusively on providing distribution for a broad range of licensed character products, many of which cannot get physical distribution. The site and its sister, AllAboardToys.com, have become the two largest independent online stores for these products.
With Thwoop.com, Ty is capitalizing on the scarcity of on-air shelf space for the programs themselves. The site aims to create a new kids entertainment experience, offering full program episodes of various kids programs along with trailers and other video. The first partner is NCircle, producer of Animal Atlas, Hermie & Friends and other shows. Thwoop.com's goal is to be a destination site where video can be seen and purchased, social networking and interactivity is promoted and user-generated product reviews are uploaded.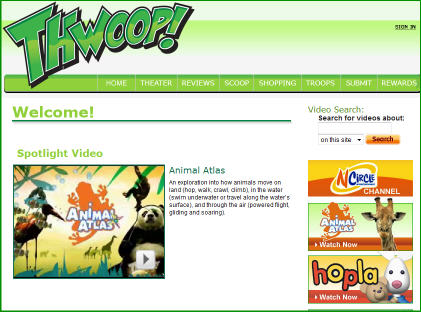 What's really unique here is that the whole site is supported by commerce, not advertising. On-air these programs are all ad-driven and the licensed products are considered ancillary. But Thwoop.com inverts the model, with commerce supporting the video. Ty explained that he's become a strong believer in broadband's potential to dramatically open up video availability, and that product sales will naturally follow. Presenting a strong user experience was a top priority, and Thwoop has partnered with Magnify.net to power the entire site. Magnify's CEO Steve Rosenbaum said his company is unveiling its "theater-mode" and full-screen player as part of the launch.
As a parent Thwoop.com raises some interesting questions. For example, my son is a Ben 10 fanatic. I like the idea of a site where he can watch the old episodes and immerse himself in the characters, and maybe even interact with other kids (assuming the right safeguards were in place). On the other hand, I have to admit, it scares the bejeezus out of me that he would get even more exposure to the licensed products. As my wife likes to remind me, we hardly need any more Ben 10 paraphernalia in our house...
Regardless, Thwoop.com is exactly the kind of new, innovative experience that broadband enables. Clever entrepreneurs like Ty recognize that broadband resolves traditional distribution scarcities, opening up completely new business models. When I put my VideoNuze hat on, I'm excited to see it launch.
What do you think? Post a comment.