While much attention in the broadband video industry has been focused on consumer-oriented companies, The NewsMarket is showing that there are other profitable niches for those with deep domain knowledge and creative business models. When I was in NYC last week I caught up with Romina Rosado, its Global Head of Marketing over lunch to learn more.
The NewsMarket's fundamental insight was recognizing that broadband would be a great platform for news video to be disseminated and that broadband's growth would eventually change both the roles of public relations/corporate communications professionals and the media's coverage of news.
On the one hand, PR people would need to offer up more video assets to augment their traditional text and images-based materials. And on the other hand, as consumer penetration of broadband increased, the news media would need improved access to video assets to help them cover stories online in a way that met changing consumer expectations. As its name implies, The NewsMarket's vision was to serve these two worlds, helping marry PR and news reporting to broadband in an efficient, cost-effective manner.
But executing on this vision has been turbulent. Founded in the dot com heyday, The NewsMarket clung to life in the early 2000's waiting for the market to stabilize and catch up. The good news is that not only has this happened, but The NewsMarket is now using its core competencies and relationships to expand its services.
The way The NewsMarket works is that companies, government agencies and other providers pay a fee to upload and have their videos (e.g. product demos, executive interviews, etc.) hosted at a secure site, where pre-approved media outlets are then able to download and edit. There are now 17,000 media outlets in 193 countries accessing video. Broadband's progress is evident, as Romina explained that a year ago NewsMarket videos were used in the same proportion by traditional broadcasters and online news outlets. Now the latter account for 80% of usage, including many newspaper sites as heavy users.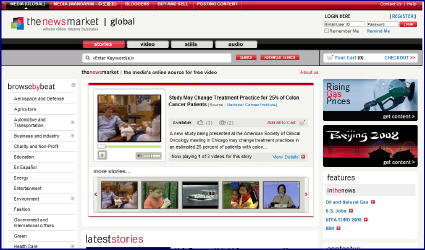 About a year ago The NewsMarket addressed bloggers by making a portion of its total videos available in a product called VideoCafe. But in response to the blurring demarcations of media and bloggers' displeasure at the limited quantity, The NewsMarket is shifting course to give bloggers access to the full library. It's also adding lots of HD video as sources are increasing their video quality.
The NewsMarket has also expanded its portfolio by providing white label "broadcast newsroom" services for others' sites. About 70 customers have signed up for this. Microsoft is one example (not login needed). The NewsMarket has taken the next logical step by introducing its BrandTV product, whereby brands and others can set up their own channels in custom environments. YouTube is an obvious alternative for companies considering a quick and cheap alternative. But its unmanaged environment poses obvious issues, particularly for the growing list of companies getting more serious about using video to deliver their messages.
The NewsMarket's lessons are not only to be persistent in the face of adversity, but also to be creative in thinking about what kinds of macro changes broadband forces and how inventive business models can take advantage of them.